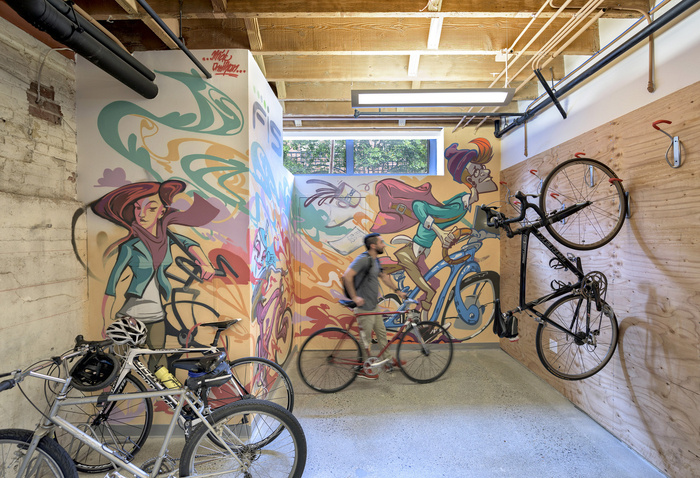 FIS – San Francisco Offices
Blitz Architecture + Interiors has designed a new office space for global payment technology company FIS located in San Francisco, California.
FIS, the world's largest global provider dedicated to banking and payments technologies, made a strategic decision to relocate their San Francisco office from a traditional highrise to a building with more character in the heart of the city. They selected 25,000 SF of office space on the ground floor and a secondary subterranean level in the Historic Jackson Square neighborhood. For their new location, Blitz assisted with interior design, layout of the office, and selection finishes and furniture for the space. Core and shell work was performed by Gary Lee Partners.

Though FIS serves more than 14,000 institutions in over 130 countries, the company had a strong desire to steer clear of the "corporate vibe" and create a space that blended the raw textures of the existing brick and timber building with their company identity and culture. An eclectic assortment of residential and hospitality seating and tables, warm paint colors and finishes, and industrial elements compliment the building's exposed ceilings and polished concrete floors to create a cozy, artisanal, and curated feel. Blitz also worked with FIS's inner office art program to create spaces for custom murals and wall graphics that help to reinforce the company's creative culture.
Design: Blitz Architecture + Interiors
Photography: Jasper Sanidad