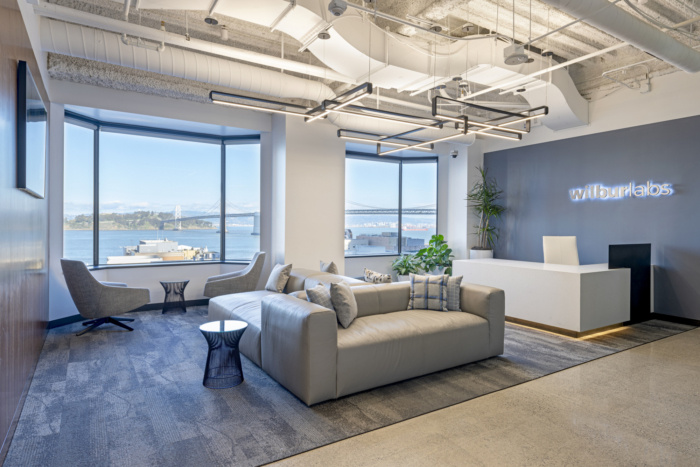 Wilbur Labs Offices – San Francisco
Huntsman Architectural Group was tasked with the office design for Wilbur Labs located in San Francisco, California.
Wilbur Labs is a San Francisco-based startup studio that's turning bold ideas into market-leading companies. From our namesake, we've drawn inspiration from the Wright Brothers. We believe in "building the plane as we fly it," and this frame of thinking inspired our new office design. As we look toward building dozens of companies in the coming years, we knew we needed a unique workspace that could be customized to our needs.

We worked with Huntsman Architectural Group to design a space that worked for our entire team. "They wanted a space that has a modern and timeless feel. Nothing that is too trendy and everything in the office is very thoughtful and useful. Everything was designed with intent," shared the Huntsman team about the design of our HQ. Our design vision derived from the Wright Brothers' legacy, and we implemented aesthetics that commemorate aviation. Features like our custom wallpaper showcasing the blueprint of the Wright Brothers' first successfully flying airplane make the space truly unique to our brand.

As we assessed the needs of our team, three crucial themes drove the design features of our new office: multi-company support, consideration of both onsite and distributed teams, and prioritizing employee health and wellness.

The idea of growth was intentionally built into our space to support the multiple companies we house. We designed a flexible layout with modular workstations to accommodate growth within our HQ. Customizable dashboard displays for each startup in our portfolio are strategically placed throughout the space, allowing our teams to continually monitor performance metrics. The dashboard screens mounted atop of our blueprint accent wall were designed to fit perfectly in custom niches in the walls, surrounded by wood veneer panels.

We also designed the space to equally accommodate both our onsite and remote teams. Each conference room features top-tier technology that remains consistent with the clean lines throughout the office, including custom light fixtures, blue tones, and custom wood furniture. We optimized camera height in our conference rooms to make the person on the other side of the screen feel like they have a seat at the table, then installed outstanding microphone systems and absorbent materials, so sound quality is as crisp as possible.

Additionally, prioritizing the health and wellness of our team heavily influenced the location of our office. We're located in the heart of San Francisco near public transportation options that make walking or biking to work convenient. We maximized our fantastic views of the bay to ensure our employees can enjoy sweeping views of the city from all parts of the office while benefiting from all the natural light that floods in. Every desk setup is both comfortable and customizable, as each station is equipped with a motorized sit-stand desk, ergonomic chair, and standing mat.

Our new HQ is proof that our office layout can be a key ingredient to our success, rather than just a place to clock hours, and we're excited to grow in our uniquely designed space.
Design: Huntsman Architectural Group
Photography: Jasper Sanidad