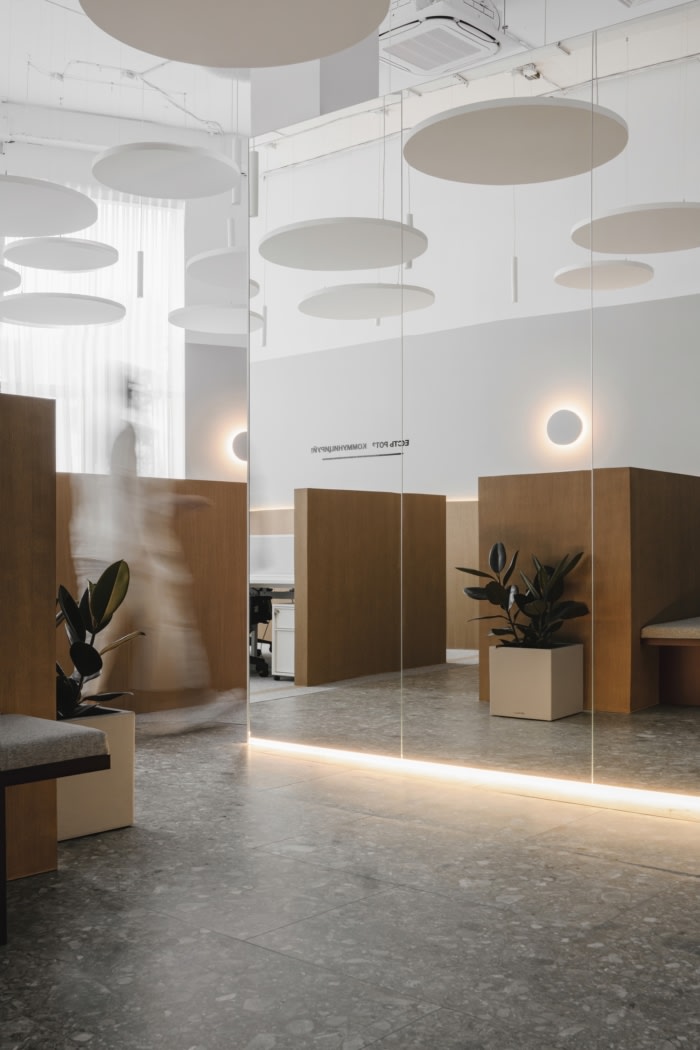 Vizor Interactive Offices – Minsk
kotra architects have completed the office design for Vizor Interactive, an international game developer, located in Minsk, Belarus.
TR_V project was delivered in 2020 for our customer Vizor Games. Our goal was to organize workspace for one of the company's departments. We started designing it with a clear vision of how we see the space and what effect we want to achieve. We decided to shift from office style and bring elements of living space into the workspace. With the help of materials, colors and furniture we tried to achieve an atmosphere of serenity and tranquility, and breathe a relaxed mood into the workspace. People spend most of their time in offices and our idea was to come up with a cozy and color-neutral space with an abundance of natural materials in the decoration.

At the beginning of our work, we had to deal with the peculiarities of the space we were to work on. The 5-meter ceilings, for one, created significant echo that hampered communication and work in this room. We solved this problem using acoustic panels installed on the ceiling. These panels are also part of the ambiance lighting of the office.

The color changing option allows to change the mood in the office depending on the need, from white for work, to blue, red, green for relaxation, color therapy or a party. The light-colored walls allow to achieve the effect of all-consuming color which instantly creates the necessary atmosphere.

The office is also divided into several functional areas: a wardrobe, a work area, a relaxation area, and a coffee point. These zones are separated visually and by materials, which on the one hand divides the space into functional blocks and on the other hand creates a holistic and light space for work, rest and development. With this project, we wanted to demonstrate a very simple idea that an office can be different: cozy, warm, tactile, inspiring.
Design: kotra architects
Design Team: Tiutiunnik Artem, Yuliya Chernova, Anna Lyahovskaya
Photography: Bobrov Artem, Yana Novikova