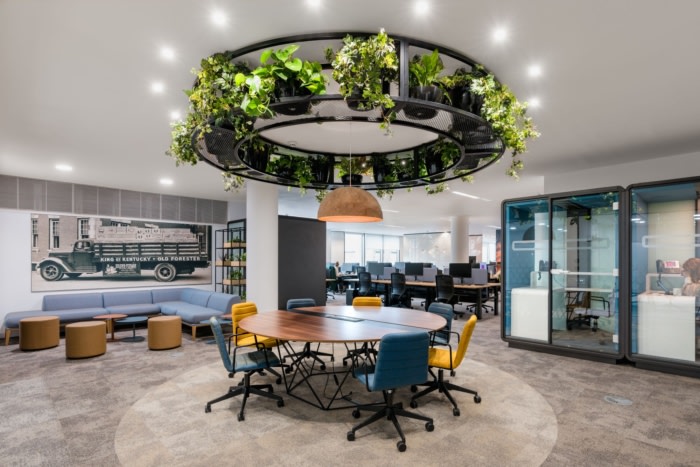 Brown‑Forman Offices – London
Woodalls Design incorporated warm colors and thoughtful materials at the Brown-Forman offices in London, England.
Woodalls Design has completed the redesign and construction of a European Headquarters office for Brown Forman, one of the largest American-owned companies in the spirits and wine industry.

Tasked with creating an environment to not only assist the business in the retention and attraction of the staff but also to create a contemporary environment which represented and showcased the brand to its maximum advantage within a space that is an exemplar bar or club.

Brown Forman initially commissioned Woodalls to undertake a series of user interviews, observations and workshops to get a full understanding as to how staff were utilising the current space and what they would wish to see as a future installation. Having played back the findings and recommendation a design was produced to re-energise the facility and refocus the business around its family beliefs and values.

The design references the companies products and processes through thoughtful selection of finishes and textures found inherently within the creation of spirits. From feature charred oak ceiling panels in the boardroom to bespoke tubular brass light fittings above the working lounge, materials were chosen that reflect those found within the distilleries.

While Jack Daniels is the flagship brand for the business it was important to create a working environment that supported all brands equally and included pockets of space to allow each product range to display its latest point of sale and sales campaign material in an open and inclusive manner.
Design: Woodalls Design
Photography: Neil Hewison Photography