IIDA New England 2016 Design Awards Winners
The International Interior Design Association of New England has announced the winners of the 2016 Design Awards.
In addition to honoring hospitality, education, healthcare, residential, and student projects, the 9th Annual Design Awards featured workplace designs in the following categories:
Best in Show
Best Office Design Under 10,000 SF
Best Office Design 10,000 SF – 30,000 SF
Best Office Design 30,000 SF – 80,000 SF
Best Office Design Above 80,000 SF
Best in State – Massachusetts
It is also significant to note that the winners are also spread out across a variety of industries like technology, advertising, and financial services & investments. Though technology companies often rule the headlines on contemporary workplace design, all industries — and their employees — are in equal need of well-planned and executed offices.
Let's take a look at the winners…
—
Best in Show
Confidential Client – NELSON
"As the crowning element in the master plan to create a true urban campus, the design team was tasked by the client to develop the interiors of two new, multi-story connecting in-fill buildings that link offices in three existing structures that already form their growing Cambridge, MA site.
Keeping with the corporate ethos of collaboration and individual work, the design team set out to create spaces that not only would provide a functional connection between various parts of the campus, but also use the interior of those spaces to provide thought-provoking, inspiring, stimulating collaboration, meeting and event space, that helps promote a healthy lifestyle within a 24-hour workplace set-up."
—
Best Office Design Under 10,000 SF
Kensington Capital Holdings by Visnick & Caulfield Associates
"The interior was designed to create a modern space that complements the personality of the original building. The completed 8,500 RSF office incorporates collaborative areas with traditional work spaces while creatively designing an innovative lighting solution that fits into the existing concrete structure.
From the moment you step off the elevator you are confronted with a unique experience of an open 360-degree wrap around wood portal. The absence of a traditional reception area is replaced by a simple greeting counter and the company's signage is illuminated through Luminoso panels. A mini wood portal at the end of the space was created to tie both sides of the building together and a custom black wood boomerang sculpture separates the entry from the work environment. The sculpted wall, while it twists and turns, plunges down to become a bar counter and returns back onto itself again."
—
Best Office Design 10,000 – 30,000 SF
Confidential Financial Services Client by Tecton Architects
"Our Fortune 500 Financial Services client acquired the Retirement Services (RS) business from a competitor, triggering a reorganization of space. As we explored the project with the client, there were two sides to consider when planning materials: both employees arriving daily to a new location and their prospective and existing clientele. Finishings must convey the gravitas of a respected financial firm, while being both welcoming and durable.
The resulting design delivers on our financial client's external brand and sales goals: exhibit a feeling of intimate elegance and impress upon their clientele that their investments were sound within the walls of this 160+ year old company. The new corporate lobby and conference suite feature rich materials and a sophisticated palette of textures and tones in keeping with the firm's legacy."
—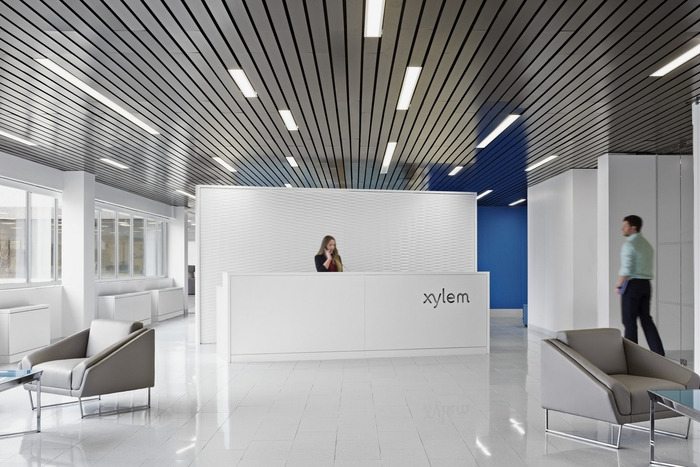 Best Office Design 30,000 – 80,000 SF
Xylem by Amenta Emma Architects (view full project)
"Xylem, a company dedicated to developing drinking and wastewater systems to improve water quality and accessibility in more than 150 countries around the world, felt it imperative that its new corporate headquarters express its values through design. The result is a 70,000 sf facility that has earned the USGBC's LEED® Gold certification.
For the interior design, the design team searched high and low for locally sourced materials for the many unique details in the building, all of which portray the company mission and are sustainable. Almost 30 percent of building materials and products were extracted or manufactured within 500 miles of the project, and 17 percent of total building materials used were recycled. Of wood-based building materials, 50 percent were certified in accordance with the principles and criteria of the Forest Stewardship Council."
—
Best Office Design Over 80,000 SF
Bit9 + Carbon Black by Unispace
"Designers articulated an ingenuous layout around an iconic skylight, which functions as a spine to the floorplan. Executive offices are positioned against the back windows to offer staff access to the best outdoor views. Interior offices and some workstations are arranged diagonally. This break from a rectilinear layout adds momentum to the floorplan and furthers unobstructed sightlines.
Aesthetically, the design hinges on purposeful details that deftly communicate the client's ideals of longevity, integrity and strength. Deceptively effortless gestures add layers of complexity to this seemingly understated space: light fixtures and the interplay of surfaces underscore the sophistication of this tech industry leader while a discreet sprinkler line painted red unifies the space like a single thread joining seams."
—
Best in State – Massachusetts
The Fantastical – Tremont Interiors / Fusion Design Consultants (view full project)
"The Fantastical, a nimble brand advertising agency, officially moved into their new home at the end of the first quarter of 2015. Located in the 'up and coming' Haymarket neighborhood, the agency's new space doubles the size of the previous location and occupies the entire fourth floor of the iconic Yankee Publishing Building. There are no fluorescent lights or gray cubicles, but rather, 30 dramatic chandeliers, bamboo hardwood floors, chair rails throughout, oversized dining room table made from refurbished doors and a fully stocked bar to create a home-like feel."