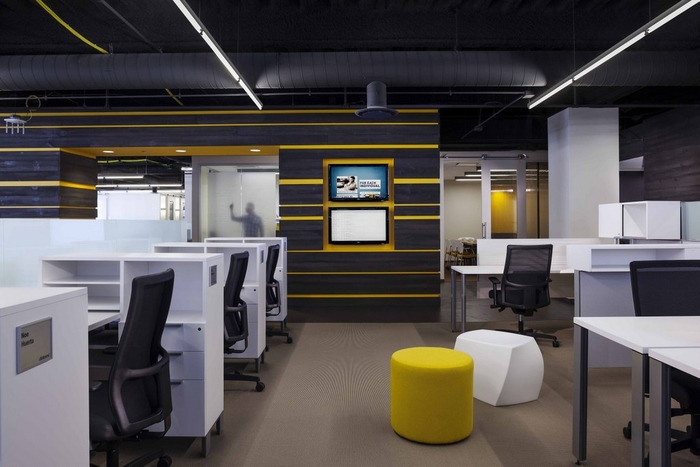 ValueClick's Open and Flexible Chicago Offices
ValueClick, Inc. is one of the world's largest integrated online marketing companies. IA Interior Architects has recently designed a new office for the company's Chicago operations.
The objective for its new office was to consolidate ValueClick's family of brands and divisions five in total) into one open and flexible space and where staff could grow and learn from cross-departmental collaboration. Being a technology company, ValueClick wanted the space to reflect the industry it served. It had to have an urban, edgy feel, and it had to be a collaborative "neighborhoody" environment that fosters creativity.

IA's approach was to turn a downtown Chicago office space into a "loft-like" space typical of technology companies. In developing the decorative lighting and color palette, the team looked to several of its own neighborhoods for inspiration; in the end, the bright, rustic, and at times grungy elements of Wicker Park were selected.

Key Design Features:

All private offices were developed for maximum efficiency to serve as offices and or as

meeting rooms when the offices were not in use.

To maximize real estate, leftover corridor spaces were developed as "scrum areas" 

where teams could gather in bleacher-like seating and be able to project in-progress ad 

campaigns in the opposite wall of the corridor. Long bands of tack-wall showcase the art 

for new campaigns.

Broad use of graphics developed in collaboration with ValueClick's graphic team 

promotes the digital markets of the company and act as wayfinding.

A wide variety of meeting/gathering spaces, including privacy rooms for up to two people, 

huddle areas, scrum areas, conference rooms in various sizes, and an employee lounge 

space foster collaboration.

Materials such as reclaimed wood, concrete floors, tree stumps, and various types of 

decorative light fixtures, etc. allowed the design team to impart the urban loft-like feel.
Design: IA Interior Architects
Photography: Barbara Karant