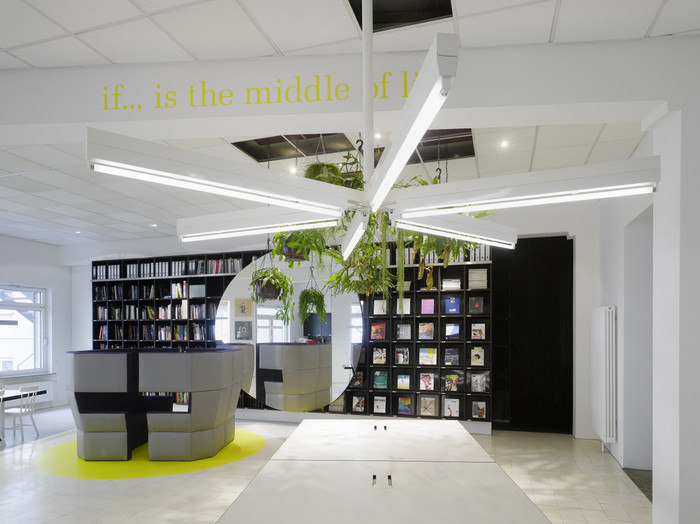 Studio Ippolito Fleitz Revisited
I briefly covered the new offices of Stuttgart-based design studio, Ippolito Fleitz Group, several months ago – but was lucky enough to get some additional images and information about the project.
Built on the premises of an old factory, the space's footprint is around 5500 sqft and has dramatic 14 foot high ceilings supported by cast iron pillars. The new office was designed to reflect their brand of being 'identity architects' and therefore were meant to be a 'quasi signature trademark for clients and studio staff alike.'
We've previously discussed the importance of brand before here.
The reception of the office is a wonderful contract of stark white elements like the walls, window coverings, and desk  – with a purple checked carpeting which was designed by the studio itself. Conference spaces are expertly crafted with a number of styles from bright and delicate to a more private and reserved. The styles of each are meant to assist in focusing the discussions that take place in each.
And of course the actual work area is made up of three benches where employees of all disciplines are able to work together. The architects note that "The open-plan interior was specifically selected to encourage cross-pollination and creative intercourse, fostering an interdisciplinary design process."
This collaborative nature is carried throughout the space with a number of discussion zones that can be used for different styles of work. But for those of you concerned with acoustics, the studio area uses deep-pile carpets in addition to several lengths of styled carpet on the ceiling.
Photography © Zooey Braun Photography