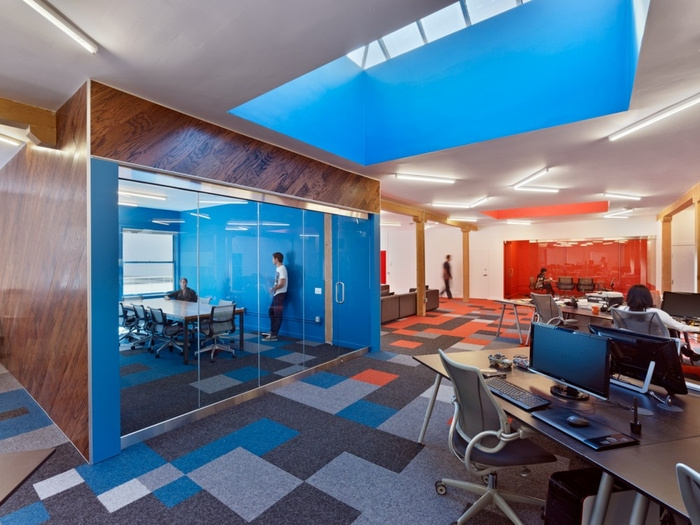 Pocket Gems – San Francisco Offices
Mobile gaming company Pocket Gems has a new and colorful space located in San Francisco which was designed by Min | Day. The office is located within the city's financial district, arranged in an open plan style.
Min | Day notes:
"Taking advantage of large, existing skylights and an exposed wood structure, this 7,000 sqft commercial interior for a mobile game developer combines a fun and flexible office environment with casual spaces for play, relaxation and work. Modular desks sit in the center of an open office surrounded by a lounge, glass-enclosed conference rooms and a large open kitchen. Walls are painted in bright colors or coated with white-board paint. The carpet, an index of activities programmed above, is a composition of carpet tiles developed in our office using parametric software."
Two eye-catching features are the lighting arrangements (more interesting installations here), and the carpeting which is meant to echo the programming nature of the office. We also see that the space has a number of small-medium conference spaces where employees can work and discuss outside of the main open area. Having a diverse layout is definitely a must that has been talked about here before as well as elsewhere.
Design: Min | Day
Photography: Bruce Damonte