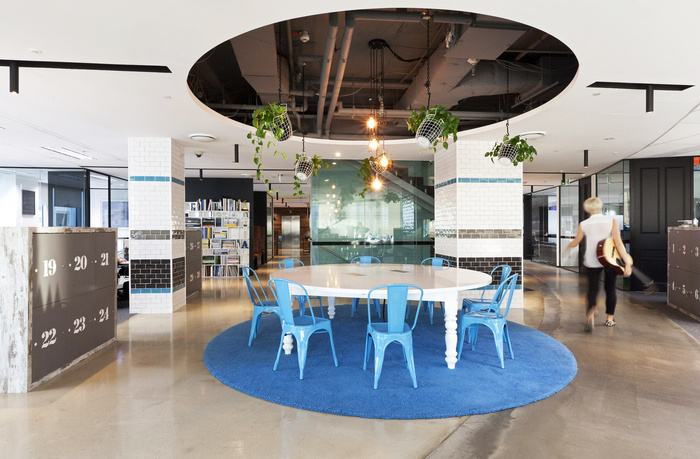 Y&R Group – Sydney Offices
The Bold Collective has designed the new office for Y&R Group located in Sydney, Australia.
Y&R was predominantly a re-use and refresh with a move towards Activity Based Working for the existing space at Levels 14, 15 and 16, 35 Clarence Street, Sydney. The space was occupied by a number of agencies within the WPP umbrella and the brief was to inject the workplace with the personality of each brand while keeping a consistent aesthetic that would tie the three floors together and reflect a Sydney locality.

In order to provide a range of work settings that would support an Activity Based Workplace, we strove to achieve better efficiencies in the workstation layout. The client was open to moving to a paperless workspace, and willing to reduce the workstation increments given the additional work settings they would be gaining. With this in mind, we were able to retain all of the existing workstation components and build new seamless work tops that would support an additional two people per cluster. Re-using the workstation components meant that we were able to both reduce waste and also allow for more budget to be used for the new alternate work settings, breakout areas and aesthetic refresh.

Our client was keen to explore an aesthetic of the historic Australian pub that reflected the history of the company roots in Australia. Meeting and hush rooms were named accordingly and we developed a palette of finishes that included handmade subway tiles, reclaimed timbers, worn leather, rusted paint, ropes, chalkboards, neon signage, gooseneck wall lights, chain suspended indoor plants and black detailing.

Level 16, which is the top floor of the building and hosts a large outdoor area, was free from workstations and was to be used for client pitches, staff breakout and events. The existing flooring was covered in astroturf, which wrapped up some large tiered seating. We worked with what was existing and developed a light filled tropical space filled with colourful detailing, planting, driftwood wall panelling and a large reconfigurable informal boardroom table.

The result was a reinvigorated agile workspace that both accommodates the function of the companies housed within the three floors, but also inspires and encourages cross pollination between the different agencies through its various work settings and breakout areas.
Design: The Bold Collective