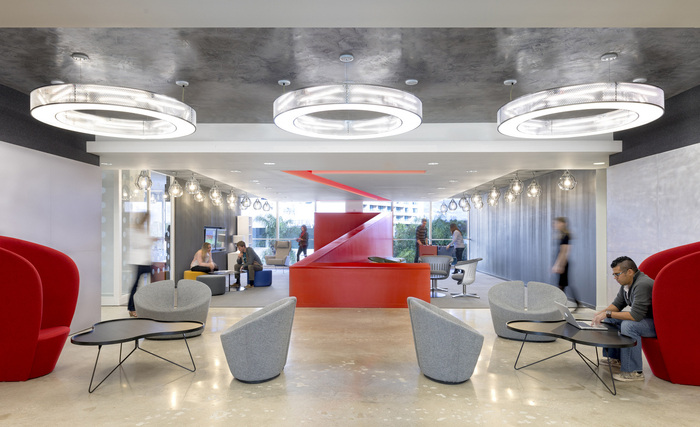 Zimmerman Advertising – Fort Lauderdale Offices
Gensler has designed the offices of advertising agency Zimmerman located in Ft. Lauderdale, Florida.
To embody its belief in the power of ideas and the importance of fostering new and bold ones, the heart of this successful advertising agency's three-story workplace is its "town square." An open stair connects reception and executive offices with a third-floor client café. Workspaces are oriented around a "collaboration ribbon" comprising open meeting rooms, lounges and support spaces. Less-formal meeting areas – "living rooms" – offer the technology needed by the firm's creative teams as they review advertising spots. The space is animated with Zimmerman's brand, including recognizable, full-height exterior "Z" graphics, braiding touchstones of unity through the diversity that the company embraces.
Design: Gensler
Project Team: Diana Farmer-Gonzalez; Studio Director, Walter Trujillo; Project Principal
Photography: Jasper Sanidad