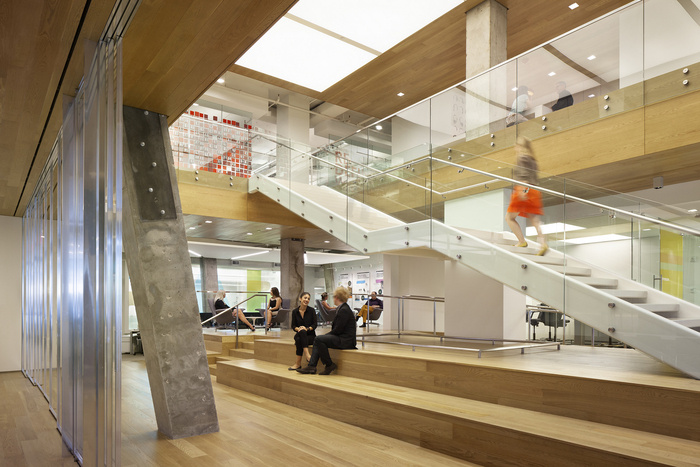 Gensler – Washington D.C. Offices
Gensler developed a new office space for its own Washington D.C. operations back in 2013.
Gensler DC has occupied 2020 K Street for more than a decade and in 2012 facing lease expiration and a growing staff, the office decided to expand. Gensler DC needed more teaming areas and different types of spaces away from workers desk where they could collaborate and not be tethered to a desk. Gensler used this opportunity to expand to ground floor space that was previously vacated by two restaurants. With this project Gensler hoped to foster a culture

of innovation, greater collaboration, and design exploration; to celebrate the design process and create greater client engagement, and to create a physical connection to the community, establishing the DC office as a place for dialogue and discourse.

Complete in June 2013, the new 60,000-square-foot workplace exposes clients and guests to the design process when they walk in the door. Designers are working in an open studio space in the storefront area where passersby can easily view our design process in action. The office doubled conference rooms from 11 to 24 with the majority of the new conference rooms sized for small groups of 4 to 6 people for increased collaboration away from the focus work areas. Improved technology and audiovisual equipment allow for internal mobility needed for guests and staff members to work more fluidly within the office. Now staff aren't tethered to their desks and are able to sit anywhere in the office increasing personal freedom and collaboration. The fabrication lab (3-d printer, laser cutter, table saw, and woodshop tools) places advanced modeling tools in designers hands so they can quickly test design ideas, prototypes, and allow for increased design risk-taking.
Design: Gensler
Project Team: Jordan Goldstein, Principal in Charge & Design Principal
Photography: Michael Moran