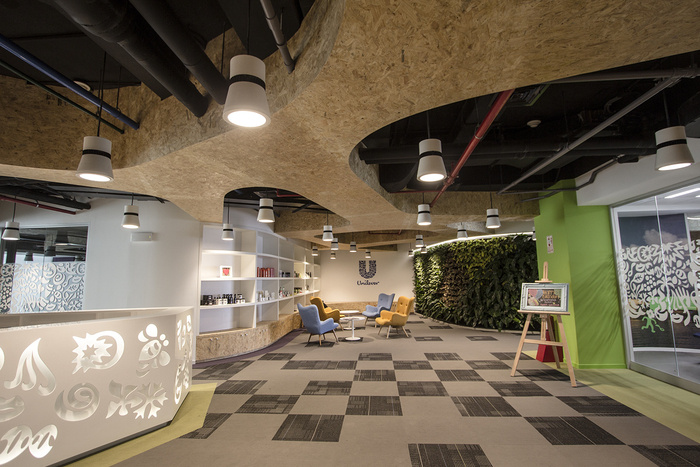 Unilever – Lima Offices
3g Office has developed a new office design for multinational product company Unilever located in Lima, Peru.
Unilever, the multinational leader in mass consumption products, worldwide implements its "Agile Working" program in order to become more agile, dynamic and creative. Peru was no exception and 3g office had the challenge of translating these concepts in the design of the new headquarters in the district of Miraflores, Lima.

One of the concepts in Agile Working is the Vitality which was the starting point for the concept of movement within the office and not thinking only of fixed areas but of transition spaces: the corridors.

Work anywhere in the office and even outside of it led to consider incorporating the street into offices. The street understood as any place where you can work, wherever you want: a park, a square, a cafe, an amphitheatre, outdoors, etc. The use of colours in different areas of the office is reminiscent of the "miraflorinas quintas", where every house has a different colour.

So the main hallway turns into a unifying street for the whole project from which different types of collaborative and office support spaces hang: breakout meeting room, printing areas, rest/relax areas, shop/showroom, etc.

Taking full advantage of natural light, poor in Lima from May to December, was also a key point in the floor configuration as it was sought to have the open work areas next to the facades and have closed spaces towards the inside, allowing the maximum advantage of natural daylight.
Design: 3g Office
Photography: Luis Arce