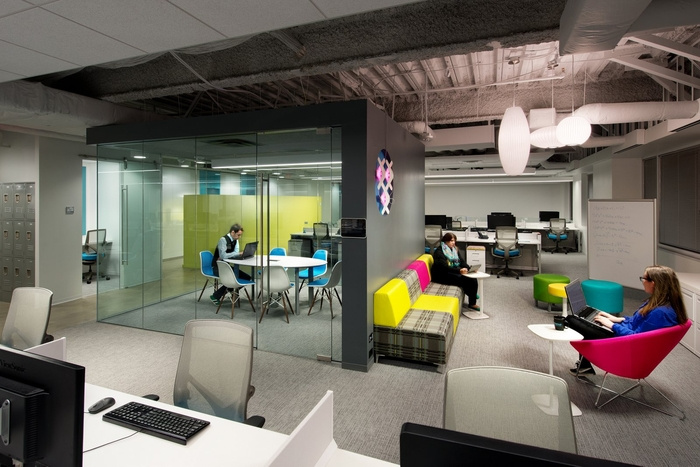 Summit Consulting Offices – Washington DC
DBI Architects have designed the new offices of Summit Consulting located in Washington DC.
The main objective was to create a space that best represented and communicated Summit's brand and identity—and that would attract younger talent. With a staff consisting of 145 employees, most of whom are Millennials, providing a flexible environment was paramount.

Summit wanted to display its brand to visitors even before they stepped into the new office. DBI was able to position a large, "floating" reception desk that bisected the glass wall and protruded into the building common area. The entire wall behind the desk, painted in Summit's signature blue, draws in the visitor, as does the Summit logo that dances along the walls and down the public corridor.

The reception area serves as a doubling space that can be used as a breakout room adjacent to the conference room or, by retracting the glass curtain wall, as an enlarged, fully functional conference space. The selection of a vibrant pink hue for bold accents is another design touch that communicates the playful energy of the company's brand. In addition, the reception area features a surprisingly comfortable outdoor chair that ties together Summit's entire palette.

From the beginning, Summit wanted to have a "heart" to its new space. The result was a large central breakroom, featuring a sectional sofa, a foosball table, and lush upholstered furniture. Dubbed the "living room," this lounge-type space offers typical breakroom amenities as well as an atypical lattice wall herb garden. DBI also incorporated 20 mobile easels that serve as writable surfaces and create "scribble zones."

Summit chose to divide its workspace into collaborative "neighborhoods," which feature benching systems, private meeting rooms, phone booths, and open collaborative lounge areas. DBI placed workstations along the curtain wall on the perimeter and offices along the interior ring allowing all staff members to have access to natural light and to maintain a sightline to the outside.
Design: DBI Architects
Project Team: Michael Hartman, AIA | Michael Boyer, IIDA, LEED AP | Anne Regan, Associate IIDA | Sarah Gottlieb, Associate IIDA
Photography: Eric Taylor