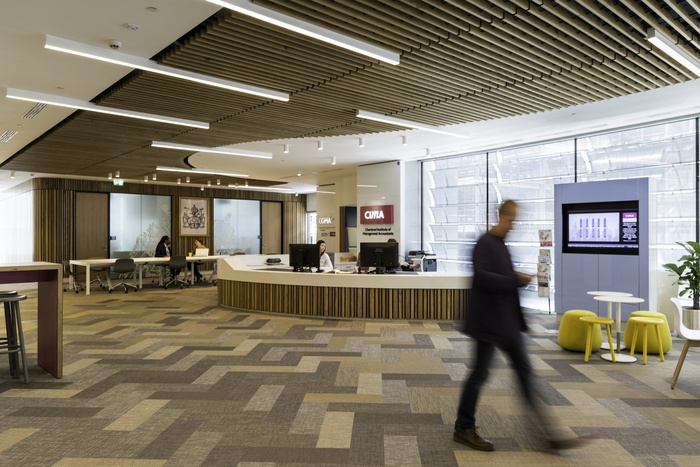 CIMA Offices – London
iDEA has developed the new offices of CIMA (Chartered Institute of Management Accountants) located in London.
CIMA set iDEA the challenge of completely redefining their workplace and working culture. With a rich history behind them, CIMA enlisted our services to help them define a workplace fit for a new era. They seized the opportunity to completely transform; brand, culture, IT systems and tools along with how they work together and use space. Using our me+my workplace tool we helped them understand that an agile work style would give them the flexibility to match how their teams interact. We reduced their requirements from 6,000m2 to just 2,300m2, with a combination of non assigned team desks and shared collaboration areas in a new, vibrant, centrally located hub for staff and members.

"A successful project will be seen as an expression of CIMA's brand and values". During the Project Team Workshop, we discussed these objectives and asked participants to imagine a journey to the new office. We gained this understanding and guided CIMA to a suitable aesthetic using images of existing offices and mood images. One major constraint is that CIMA now has a much smaller floor plate for their main London headquarters. Therefore, the main office workspace needed an effective mixture of agile workstations, collaborative team 'project tables' and soft seating. Workstations are assigned at a ratio of 7:10 allowing staff to be flexible in how they arrange their teams, stimulating collaboration that rarely existed previously. To ensure the layout was tailored directly for CIMA's needs, we held interviews with stakeholders and used our in-house space budgeting tool 'me+my workplace' to break down exactly how much space was needed, how it would be used and for how long.

To supplement the agile working environment, collaborative spaces had to be strategically integrated within the office space. The largest and most important of these spaces was the reception area, which functions as both a typical reception, staff cafe, informal soft meeting and hot desk spaces, as well as a flexible 20 person boardroom. Within the main office space, the 'town hall' area acts as a focal point and meeting space along the circulation routes linking the three work zones of the office together. Collaboration is encouraged further by having project tables, stand-up meeting areas, and upholstered meeting booths peppered across the office space.

CIMA has a new home to be proud of, and one that enhances the working style and brand image of this established company. Although CIMA is a global accreditor for accountants, aspiration was for an environment that moves away from a typical accountancy feel. Feedback has been universally positive from the client. The aesthetic had to feel like a CIMA office whilst moving away from the look of the tired and dated existing office. CIMA also wanted to connect instantly with clients and students visiting the office, so a vibrant strong visual character was designed into the general scheme using bold, branded graphics. The key brand signifiers, obvious in CIMA's current digital branding, of trustworthiness, heritage and strength were brought into the look and feel of the space using a mixture of bold brand colours in the furniture, vibrant patterns in the fabric and Bolon flooring, and strong linear timber cladding to the key focal points.
Design: iDEA
Photography: Simon Ager