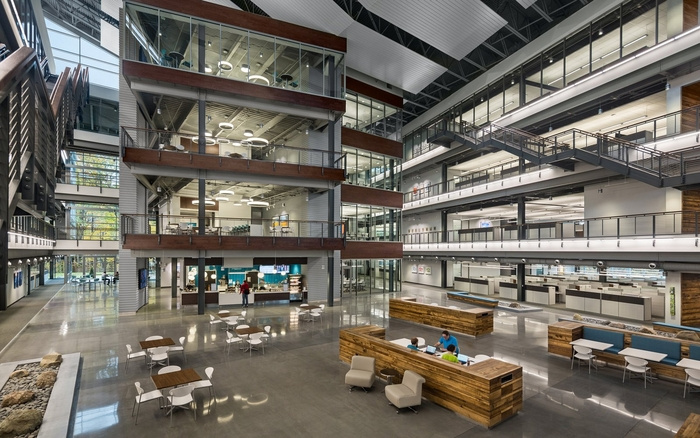 Jackson National Life Insurance Company Headquarters – Lansing
Gresham Smith has developed the headquarters of Jackson National Life Insurance Company located in Lansing, Michigan.
Jackson National Life Insurance Company, a leader in retirement solutions, selected GS&P to provide architecture and interior design services for the company's headquarters expansion in Lansing, Mich. The scope of work includes a 230,000-square-foot building expansion, new 40,000-square-foot, multi-level conference center, 5,180-square-foot dining facility expansion and renovation, and a 500-foot connector walkway.

Jackson's previous headquarters had reached maximum capacity and the client wanted to proactively consolidate staff and address their planned growth over the next decade. Building off other successful project solutions delivered nationwide for Jackson, GS&P created a vibrant, sophisticated space that supports the company's continued growth and flexibility, corporate culture, company image, and talent attraction and retention efforts. The design team introduced employee amenities and collaborative areas throughout the campus including a fitness center, entertainment/game room, sports fields, ample gathering spaces and bistro cafes.

GS&P focused on innovative ways to connect new and existing facilities, using walkways, a glass lobby, a monumental staircase and a pre-function area for seamless transitions throughout the campus. The site also features designated wetlands and extensive woodlands with mature trees and a wide variety of plant species and wildlife. The design team minimized the project's impact to the site with wetlands mitigation and the introduction of stormwater retention methods. A green roof was implemented as an extension of the topography and large windows with exterior views served as a key design element.
Design: Gresham Smith
Photography: Brian C. Robbins