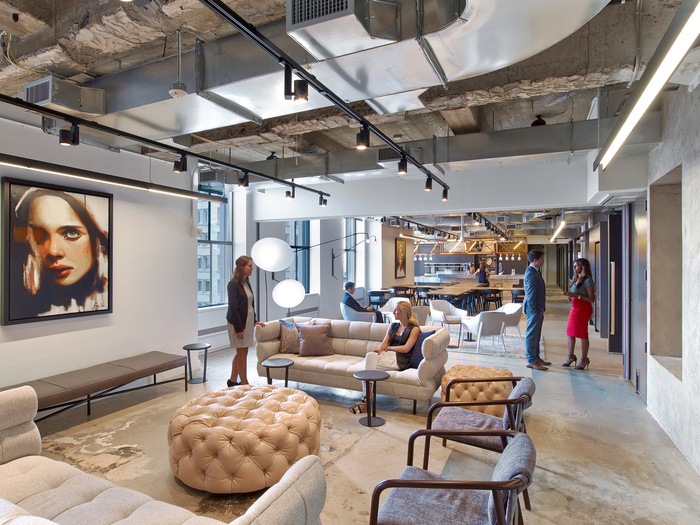 WME-IMG Offices – New York City
Rockwell Group has designed the new offices of entertainment and talent agency WME-IMG in New York City.
Transparency, transformation and a strong sense of presence are the underlying concepts of Rockwell Group's design for WME-IMG's New York City office. Located on the 18th floor of 11 Madison Avenue, a landmark concrete and stone tower, WME-IMG has sweeping views of Madison Square Park.

In a nod to the tower's elegant concrete base and the agency's long history, Rockwell Group's material palette highlights the beauty, modernity and strength of concrete. A concrete feature wall divides the reception area from a stage area. A delicate glass and rose gold-finished copper reception desk in front of the feature wall emphasizes the contrast between raw and refined materials. The custom desk also serves as a display case for objects and artifacts.

Cutout windows in the wall provide views from reception into the pantry and screening room – WME-IMG's "heart space".  This space can be divided into two rooms to separate the screening area from the pantry.  Client presentations, movie screenings, cooking demonstrations, yoga, or staff meetings can take place here.  Adjacent to the reception area are two conference rooms with unique, custom glass fronts.  The meetings in these rooms are on display unless the screens are pulled for privacy.

An open show kitchen and staff café are located next to the screening room. A marble counter with a cantilevered rose gold-plated copper base provides a work area to prepare staff meals as well as a "stage" for high profile chefs, who are increasingly a part of WME-IMG's client base. A wall of ebonized wood cabinets creates a minimalist backdrop for the chefs. Overhead, a custom copper chandelier with a rose gold finish and angled mirrors provide different views of a chef at work.

Offices are designed to maximize transparency while providing audio privacy. Both in-bound and perimeter offices have glass front walls to visually connect agents and staff. In-bound offices are shorter than ceiling height and resemble floating jewel boxes, allowing natural light to filter throughout the office. The east and west flanks will serve as "terraces" – light-filled, informal meeting areas inspired by the park below.
Design: Rockwell Group
Photography: Eric Laignel