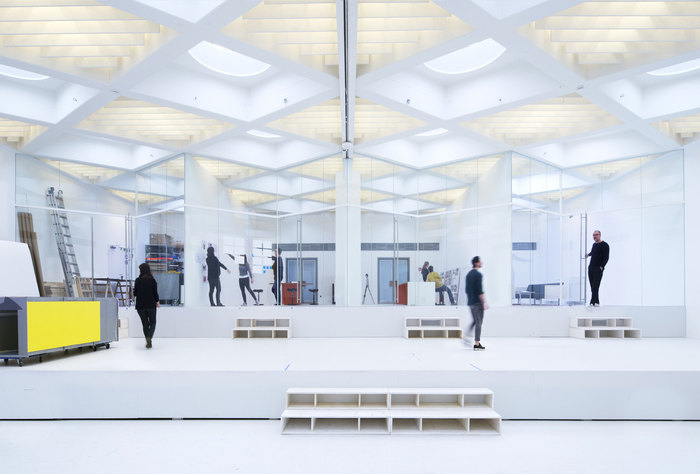 Feldmann+Schultchen Design Studios Offices – Hamburg
size

10,763 sqft
Year

2016
Industry
Design
,
feldmann+schultchen design studios have developed a new office for their design firm in a heritage-listed building in Hamburg, Germany.
Today cutting-edge designs are made where once fruits and vegetables were traded. The feldmann+schultchen design studios have established their new office space inside the Kontorhaus, the former office building of the central wholesale market. They have transformed it into a welcoming workspace with clearly defined areas.

The Kontorhaus – Heritage-listed Architecture The new premises also provide plenty of space. The rooms with a ceiling height of up to 6 meters are flooded with light by more than 40 skylights. The 14-storied building was constructed in the 1960s under the direction of Bernhard Hermkes. His Scandinavian-style architectural designs like the Auditorium Maximum, the Kennedy bridge or the Grindel towers have decisively shaped the cityscape. Like the adjacent wholesale market hall, also by Hermkes, the Kontorhaus is classified as a historic monument.

The feldmann+schultchen design studios have set up their office space on the ground floor that covers around 1.000 square metres, filling the existing building with new life.
The design team carried out the interior construction and furnishing process themselves, yet they considered the building's time of origin. They made sure to keep it as simple and functional as possible. Light and bright materials like whitewashed maritime pine, pine planks and glass strike a contrast to the heritage-protected fixtures made of mahogany. Zink sheets and bright coloured woollen Hallingdal fabric add colour and metal accents.

Distinct spatial structure for a good work climate The spacious rooms layout is divided into different zones. With this arrangement, feldmann+schultchen have come upon a coherent room concept. Glass walls, room dividers and additional fittings now structure the existing construction thus bringing the designers ideas of work processes and social interaction to life.

At the centre the oblong lobby is situated, an internal service axis and a place for communication with an open kitchen and an inviting long table. This is where the team has lunch or comes together for big meetings. Alongside this open area enclosed spaces have been created like a library with a cosy living room atmosphere. The original wooden telephone boxes have been retained. Some of them will be rebuild into napping boxes, small havens for in-between recreation.

The way to the former auction hall, where fruits and vegetables have been traded, leads through project rooms that are used for various purposes depending on the current design tasks. Glass walls ensure an unobstructed view of the hall's impressive faceted ceiling. There the designers have plenty of room to construct mock-ups of architectural models like the ceiling of a petrol station or modular units of shop systems in full scale. Models are built in the two well-equipped workshops next door. A professional basketball hoop hints at the laid-back way of working.