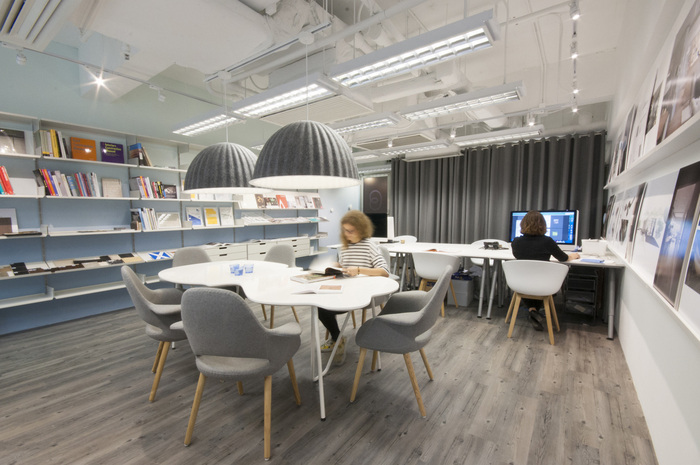 Bean Buro Offices – Hong Kong
Bean Buro has developed a new office design for their architecture and design practice located in Hong Kong.
The new studio space in Wanchai Hong Kong features a long library wall with dreamy gradient wall that changes from blue to turquoise. Two oversized pendant lights stage the central meeting table customer designed with playful curves. A gallery wall features a casual exhibition of the studio's recent productions.

The gradient wall was spray painted with two colours, from a blue to a turquoise colour. Felt fabric, which has high acoustic properties, was used to create the curtains, meeting chairs, and large pendant lights. A bespoke meeting table was produced using CNC laser cutting.

The office space is 900sqft. The bespoke meeting table is 800 x 2000 x 740mm. The large pendant lights are each D800 x 450mm.

The central space of the office is staged with a curvy bespoke table with two large pendant lights. It is a place to gather staff, greet visitors, and encourages social interactions. The table can be extended to increase seating capacity.

The project started in August 2014 and finished in September 2014.

The project aimed to experiment with a new type of work place that is comfortable for staff, with careful material choices that are homey and relaxed. This in turn allow for staff to be more productive and engages with each other in a more connected and collaborative way.

The main challenges for this project was budget and speed, while delivering a creative solution for the playful office. The design therefore consists of a large amount of pre-fabricated elements that reduces the site construction time to only 21 days. These elements have a long life cycle and can be relocated for future use, which saves money in the long run. Affordable materials were put together in a skillfully to achieve a tasteful elegant design.
Design: Bean Buro
Photography: Courtesy of Bean Buro