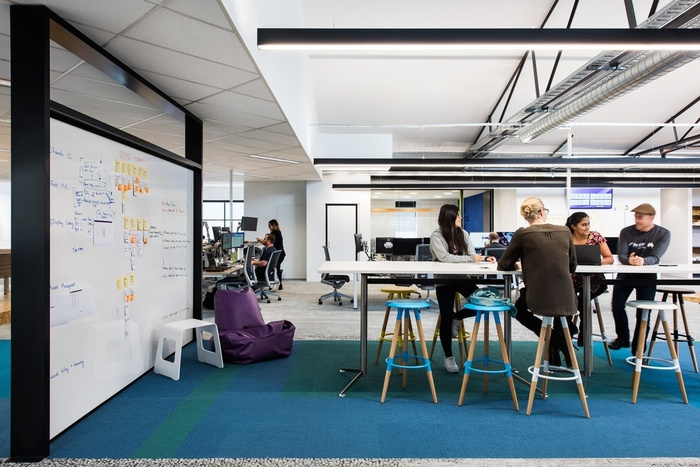 MYOB Offices – Melbourne
Futurespace has designed the new offices of online accounting company MYOB, located in Melbourne, Australia.
Futurespace took the time to understand what MYOB's employees wanted from the space plus how they worked and combined this with MYOB's values of innovation, collaboration and high performance.

It was a workplace that hadn't been seen before. The space was designed to attract and retain talented team members, but beyond that, it aligned the principals of lean and agile software development with the physical space.

For instance, the employees asked for lots of walls to write on. However, in an open warehouse with few walls this was a challenge. So Futurespace introduced mobile scrum/Kanban walls that didn't close in the space or take away natural light.

Team work and collaboration were also key themes and Futurespace provided a multitude of areas that could be used when people needed to meet quickly to solve issues as well as more formal, private spaces.

For instance, Futurespace created booth seats, like in a diner, which are essentially informal, relaxed meeting rooms to help people be more creative, productive, and engaged.

Health and wellbeing was also an important part of the design. So included in the design were plenty of sit to stand desks, stairs linking the two floors, lots of natural light, sound screening, end of trip facilities and an indoor/outdoor aesthetic, including indoor trees and raw materials.

The feedback from employees has been overwhelmingly positive. After moving into the new space, it was business as usual and employees were up and running almost immediately thanks to the intuitive space.
Design: Futurespace
Photography: Nicole England