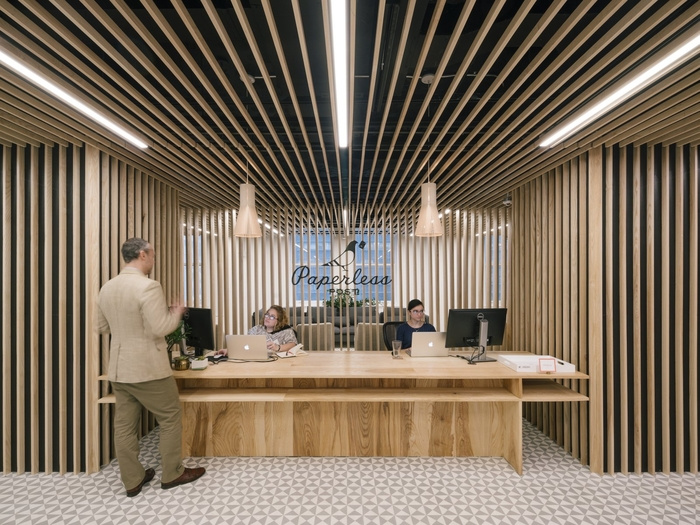 Paperless Post Offices – New York City
+ADD has designed the global headquarters of e-vite and online card company Paperless Post, located in New York City, New York.
Located in the historical twin gothic towers that compose Trinity Centre located in the vibrant and ever changing Financial District. The new space will house 250 employees. Having mainly northern light to work with we selected a bright pallet including natural ash wood, the company's pallet of black and white plus brushed brass accents in light fixtures and hardware elements to accomplish a strong interior space.

We allocated resources to where they were most needed, including a welcoming lobby/lounge space that portrays the company's graphic mastery into architectural elements using ash wood louvered panels as the main characters. Complemented by open work areas with exposed ceilings showing the memory of previous MEPs; all mechanical, electrical and plumbing installations are fully displayed along with the scars of previous tenants.

The workspace is accompanied by a 1,600 sq ft canteen space that simultaneously serves as a dynamic event space. It also includes several small to large conference spaces, a library and substantial storage space for the company's main products. Client wanted a space that would be familiar to people but with a certain uniqueness to it as well.

Custom-made workstations in ash wood include cable management areas to achieve functionality and aesthetics into one piece. The result is a space with a strong character; using bold, clean and simple elements intertwined to portray the company's leading elegant image.
Design: +ADD
Photography: Miguel de Guzman of Imagen Subliminal