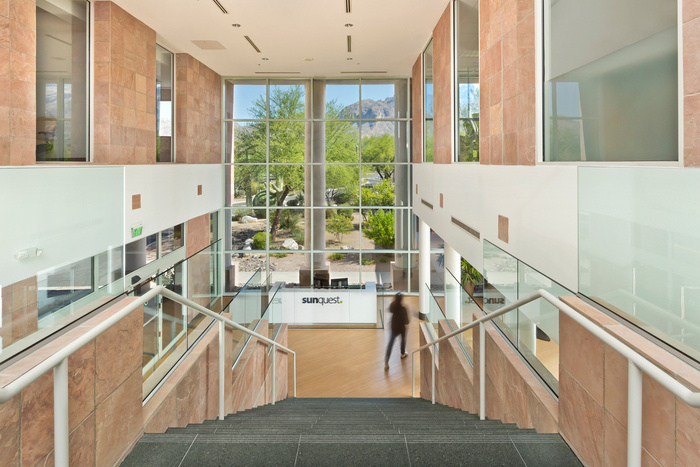 Sunquest Information Systems Offices – Tucson
Within Studio designed the headquarters for healthcare information technology company Sunquest Information Systems, located in Tucson, Arizona.
Sunquest Information Systems Inc. provides diagnostic information solutions to more than 1,700 laboratories. Since 1979, Sunquest has helped laboratories and healthcare organizations across the world enhance efficiency, improve patient care, and optimize financial results. Headquartered in Tucson, AZ, with offices in Boston, London, Dubai, United Arab Emirates, and Bangalore, India, Sunquest is a global leader in healthcare information technology.

In 2015 Sunquest announced plans to relocated their headquarters to 3300 Sunrise Blvd, an office known as the former Muscular Dystrophy Association (MDA) headquarters in Tucson, Arizona. The building was selected by Sunquest for its dynamic design, open floor plan, natural light and views of Tucson's mountain landscape through large floor-to-ceiling windows. The goal is to design a space that will foster employee collaboration and innovation, as well as become an inviting location to host client training or planning meetings.

Sunquest hired Seaver Franks Architects and Within Studio to assist in the transformation of the MDA building into a workspace that would spark conversations and collaboration among its employees. Within Studio (WS) took on the task of creating a balanced office by providing zones within the open office plan. In addition to the work space, there was a need for break out zones, team rooms, conference rooms, a gymnasium, a town hall to provide nutritious food, and serendipitous meeting spaces throughout the building.

Upon entering the building guests are greeted at a sleek front desk and immediately with the "Lab of the Future". This space provides Sunquest a manner with which to showcase their latest design innovations. Adjacent to the Lab of the Future is the Auditorium that hosts numerous presentations and meetings for employees and clients. Once through the security doors, the open office is divided into different working spaces. Downstairs houses the technical teams which have the dominant blue and green color palette as well as the Town Hall which provides a space to dine and relax as well as the ability to present to over 200 people in one sitting. Past the Town Hall, employees have a private multi-level gym (not pictured).

Heading upstairs you will find the innovation teams which have a dominant orange and yellow color palette. Dry erase walls and frosted windows provide areas for creative conversation for the team meetings. The upstairs break room leads to an outdoor patio to take in the beautiful desert weather. Stairs also lead to a rooftop garden and additional patio space that will be developed in late 2018.
Design: Within Studio
Architect: Seaver Franks Architects
Contractor: Contrawest
Photography: Dominic Bonuccelli