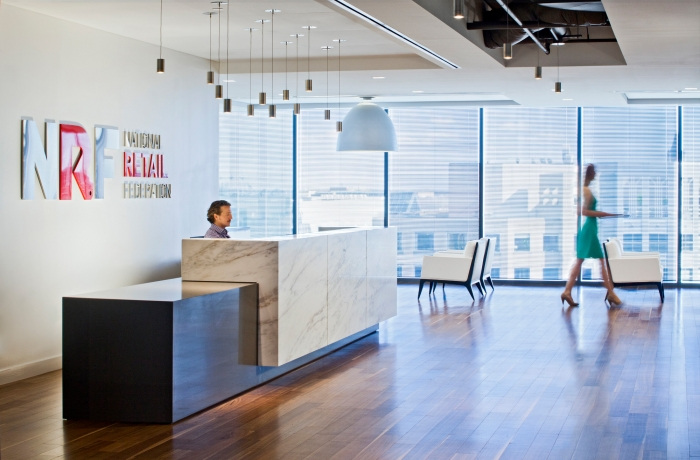 National Retail Federation Offices – Washington DC
Stantec has designed the headquarters for the world's largest retail trade association, National Retail Federation, located in Washington DC.
National Retail Federation's former headquarters was divided among two floors, lacked collaboration space, and featured an 80/20 office to workstation ratio. After deciding to relocate to a new 30,000 SF space, the team worked to create a design that would represent the new face of NRF. The design and layout of the new space takes advantage of stunning views of downtown DC through the building's uninterrupted full height glazing perimeter. Through a clever blend of high-end and raw materials, the design embodies the many faces of the retail industry, from Madison Ave to Walmart. From the walnut floors at the entry and reception areas to the stained concrete floors that mark the promenade around the office, the juxtaposition and collision of the two worlds is a theme throughout the space.

NRF leadership took advantage of this opportunity to change the way they conduct business, how they collaborate, and how they are perceived by members and the public. The new space is primarily open, featuring a 90/10 workstation to office ratio and offers a more collaborative work environment. A large focus was placed on providing flexible conferencing space to support NRF's large-scale meetings and events and balance the reduction in enclosed work environments. A highly utilized feature open to everyone at NRF's new office is their cafe. Visible from the elevator lobby, an expansive cafe area has multiple seating options including a long banquette along the window, a huge bar-height island with stools, and low lounge seating.
Designer: Stantec
Contractor: HITT Contracting
Photography: Ron Blunt