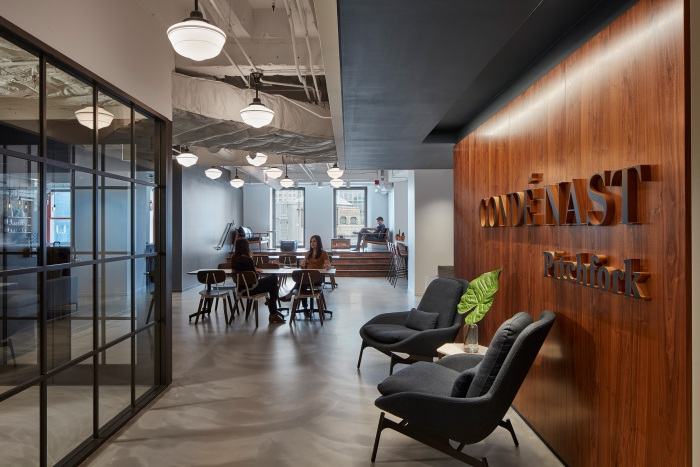 Condé Nast / Pitchfork Offices – Chicago
GREC Architects has designed the new offices for media company Condé Nast and one of their brands, online music magazine Pitchfork, located in Chicago, Illinois.
Chicago's Condé Nast branch and Pitchfork (recently acquired by Condé Nast) moved into their new office in the Merchandise Mart this past summer. Employees of Chicago's Condé Nast office previously sat in perimeter offices on the 35th floor of the John Hancock Center, while the Pitchfork team was housed in a garage in Chicago's Logan Square neighborhood.

The Condé Nast group decided to combine its Chicago teams under one roof, and now calls a 12,000-square foot, full-floor space on the 21st floor of the Merchandise Mart home. Led by local Chicago architecture studio, GREC Architects, the design breaks away from the typical 'glossy media' office space and joins the Condé Nast and Pitchfork teams in a creative, open workspace with loads of natural light. To streamline operations and blend the two organizations into one coherent workspace, customized neighborhoods are created to accommodate their unique needs. The Condé Nast team is arranged with medium-height partitions and shelving to house publications and provide acoustic relief. Pitchfork's team space features a studio layout for artistic endeavors and open sight lines across all desks.

Key design aspects of the space include an elevated stage for performers (staying true to the Pitchfork brand), a lounge and kitchen with home-style amenities, and huddle spaces and phone rooms to accommodate for privacy in the open office environment. GREC employed a warm color palette featuring brass accents and inviting lounge furniture to create a relaxed office environment. Revealed elements of the original Mart structure compliment new polished concrete floors. GREC also left walls blank as a canvas for the creative brands' teams to display original artwork.
Designer: GREC Architects
Contractor: Executive Construction Inc
Photography: Tom Harris