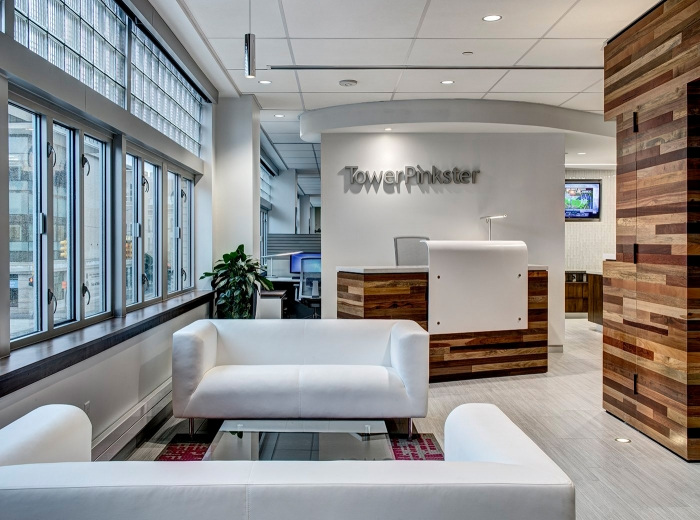 TowerPinkster Offices – Grand Rapids
TowerPinkster have completed the design of their offices located in Grand Rapids, Michigan.
The historic 1949 Davenport Building, also known as the JA Building, sits in the heart of Grand Rapids at the city's busiest intersection. Extensive work was needed within the 2-story structure, which was vacant for nearly 15 years. The roof had failed years ago, single-pane windows were in need of replacement, utility upgrades were necessary, as were historic repairs.

TowerPinkster and Locus Development worked together to build and restore "4 East Fulton", as it's now called, to its original, minimally-detailed, art deco style as one of TowerPinkster's own historic preservation projects. The building is located at the heart of art, education, design and commerce, a perfect home for the Grand Rapids office. The second floor (7,488 SF) was renovated as an office to accommodate 35 employees, allowing for future growth. The space features an open-office environment showcasing flexible furniture systems from Haworth, as well as Haworth's Workware allowing users to share content wirelessly, even remotely in real time. The office space also features a Teleprescence Conference System which provides offsite team collaboration.

Sustainable features include reclaimed wood paneling made from salvaged shipping crates, locally manufactured furniture, most of which has recycled content, countertops made from recycled metal shavings, energy-efficient LED lighting, 3D wall panels made with FSC-certified wood, use of cork – a rapidly renewable source, low-VOCs in carpet tile, solid surfacing and paint, low furniture panels and interior glass maximize the use of natural light.
Designer: TowerPinkster
Photography: Justin Maconochie