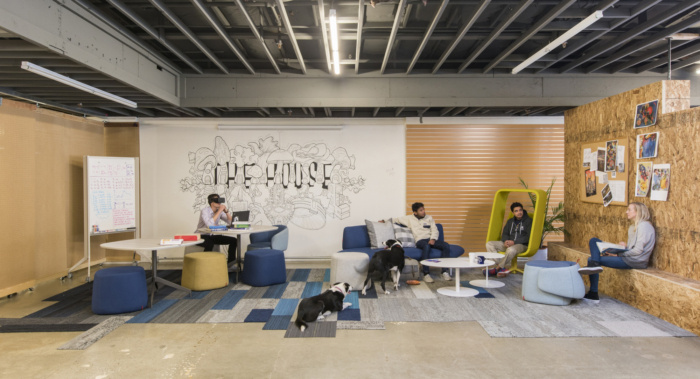 The House Offices – Berkeley
Fennie+Mehl Architects designed "the House," a work space for potential entrepreneurs located in Berkeley, California.
The House is not an actual house, but it is home to budding entrepreneurs from the ranks of UC Berkeley students, faculty and alumni to give them a physical space to work towards making their ideas a reality. The brainchild of two former Cal students focused on helping encourage innovation emerging from the University, FENNIE+MEHL envisioned the space as a metaphorical garage with the freedom to break away from reality and truly ideate.

All 7,000 sq ft captures the unique ethos of Cal (slightly quirky but confident, inventive with disruptive thinking). It feels welcoming with the right amount of college scrappiness. It's flexible enough for all the uses inherent in a start-up life cycle. And it fit inside their gossamer thin budget, thanks to F+M asking Principal Builders to waive their construction services fee, and Haworth contributing $300,000 towards furniture. F+M provided pro bono a working plan and concept, and mentored the project's architecture student representative.

The House constantly manipulates space in order to generate creativity and originality. There is supported workspace for startups, industry networking (Apple founder Steve Wozniak has already hosted a meetup), technical resources, mentorship connections, events and community support. All of the furniture supports significant heads-down work areas that can be quickly and easily broken down, moved into different configurations, or removed altogether. The perimeter of the open area is lined with Haworth-demountable glass partitions that create different sized various rooms (meeting rooms, work rooms, and open meet-up areas) available for existing startups to use as a workspace. Sliding ceiling track pegboards on casters provide little or ample visual privacy between the two major zones of the space. New ideas tacked on these boards give the space a bootstrapped yet creative feel.
Designer: Fennie+Mehl Architects
Photography: Omied Arvin