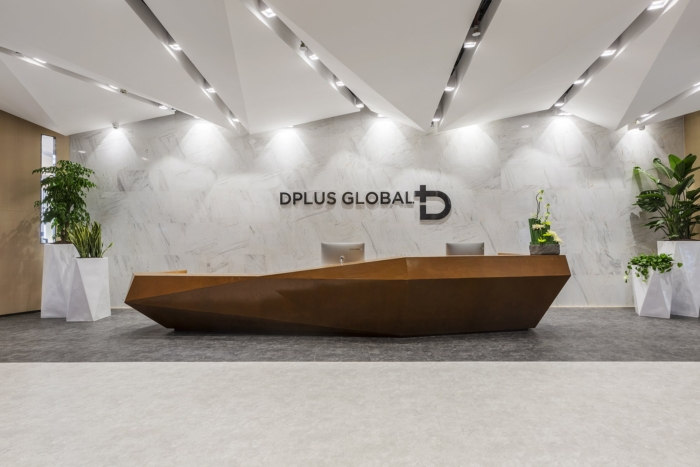 Dplus Global Offices – Guangzhou
Shenzhen Yixiang Space Design recently completed the offices for natural products company Dplus Global located in Guangzhou, China.
The pressure of work makes us want to get away from it, but it is not easy to do so, so we might as well choose a better working environment, and stay in a pleasant atmosphere which would let us feel very happy to work even overtime.

Pei Fuxing, Xie Zhengtao and their design team created Dplus Global Office in A·Center, Guangzhou, a comprehensive space that includes shared office, exhibition and communication area, life experience area and business negotiation area.

Different from the traditional office which gives people a rigid and serious impression, this office creates a fresh feeling and forms a unique symbol though the designers' bold space division and integration of volumes, arrays, and changeable designs.

The whole space is divided into three large areas, namely, public area, active area and quiet area, which reflect the diversity and integrity of working functions and give vitality to the space. Each area can bring different feelings, when staffs are in a refreshing state, they concentrate on their work, and when they feel sleepy, they can go to the water bar to make a cup of coffee, look up around the surrounding environment, then the bad feeling would go away.

You will find the space special as soon as you walk in. The two big pillars from the original structure didn't create difficulty, but opportunities for the design. The whole space strived to create a "light" feeling. Geometric figures and small top lights form an exceptional ceiling. The reception desk is like a boat made of delicately cutting gemstone, driving on the calm lake and echoing with the marble floor, which masters the balance of art and space to achieve a vividly aesthetic feeling of installation art.

In order to leave a passage for owners on the top floor, the designers decorated the whole wall with diamond-shaped wood veneer. Instead of ruining the sense of beauty, it becomes a highlight in the space.

Unlike ordinary waiting area, this space won't make you feel nervous. Giving priority to a yellow tone, it's decorated with simple tables, chairs and bright lights, making it full of vigor. Besides, the green plants not only make the space close to nature, but reveal vitality.

We will spend the whole day working in the modern office area, so that the designers integrated many different types of offices to realize a free working experience. A few but delicate embellishments were carefully designed, and people can feel the free and fresh breath. Staffs can have clearer minds and good ideas in a concise environment that is rich in connotation.

If you feel tired, go to the water bar, since it is a corner where you can temporarily forget tiredness. In an open layout, it has lots of drop lights hanging down, romantic and gentle. With a cup of coffee, you can quietly enjoy a wonderful afternoon moment and freely chat with your colleagues, and you'll feel much closer to each other.

It is always said that the meeting room is a place that makes people feel nervous and produces high efficiency, and lots of good plans were came up through "brainstorming" in there. Through fluent lines, the designers created a peaceful space that is beyond the real world. Surrounding the long wooden table, people can talk freely like friends under the starlight. The warm yellow light enters inside through the glass curtain, bringing a warm feeling that can effectively relieve work pressure.

In terms of the manager's individual office, the designers chose to use modern design language to build a concise and sophisticated space. The light color furniture, creamy white wall surface, artistic crystal droplight and refined small decorative bouquets create a modern picture in front of you, which perfectly matches with the female manager.

The concave area of the original building structure becomes a part of sofa rest area, and the designers cleverly combined it with the structure itself to make a hollow layout that makes people feel comfortable and unrestrained.

In the toilet, the designers broke the tradition and added dramatic elements inside. The diamond-shaped tiles on the floor and wall match well with the emerald color, and the lamp on the tall and big horse at the entrance adds a lot of fun into the space.

Design comes from our needs, and creates unlimited possibilities for our life. A new office that is full of contemporary feeling is the right way to break the impression of being serious and nervous, and it turns out that the working environment can also be very relaxed.
Designer: Shenzhen Yixiang Space Design
Design Team: Pei Fuxing, Xie Zhengtao
Photography: Liao Lingnan