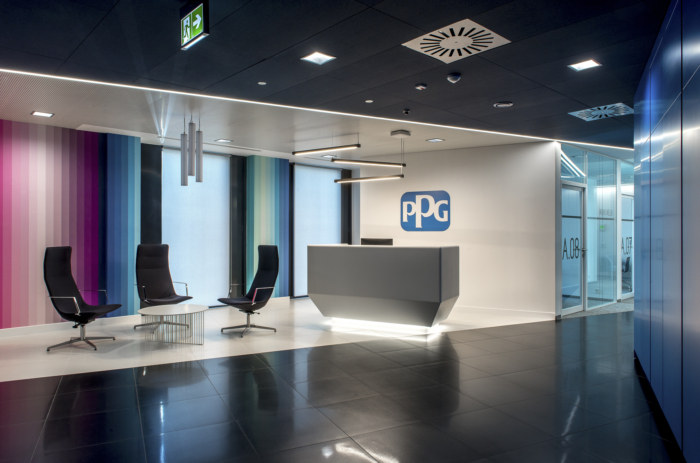 PPG Industries Offices – Wroclaw
KREATIVA architects completed the offices for PPG Industries, an international paint and varnish production company, located in Wroclaw, Poland.
The PPG offices in Wrocław were located in factory buildings, which in no way met the company's premises and image needs.

The new office designed has its headquarters in the center of the city. Large open spaces, glazed at full elevation creates a spacious and clean interior.

Wanting to show the company's philosophy and its specific character, we treated the whole with colours like a blank sheet of paper, on which appearing elements, both in form and colour, integrating the composition. We were not afraid of picturesque colours, but we made sure that each juxtaposition would look good composed in the interior.

The most important thing in the design work is that the office space is adjusted to its employees. The quality of the office should be expressed in the quality of the physical and mental form of employees, therefore the proposed layout is aimed at caring for the employee, their health, well-being, and thus efficiency and commitment.

The offices are arranged in such a way as to positively affect emotions, motivation, creativity, concentration and regeneration. It is extremely important that interior design supports a balanced lifestyle that involves combining aspects of the private and professional life of employees.

A large part of the office has been arranged and designed for the needs of the IT department where the majority of employees are young people. There are planned areas for both individual and group work. These spaces are key because many projects are created in smaller or larger teams.

Part of the office occupies the space of relaxation and rest – we used our knowledge and ingenuity to present interesting and practical solutions. The office's interior ensures comfort of use. Its individual parts complement each other – not only visually, but also practical.
Designer: KREATIVA architects
Furniture: Okamura
Photography: courtesy of KREATIVA