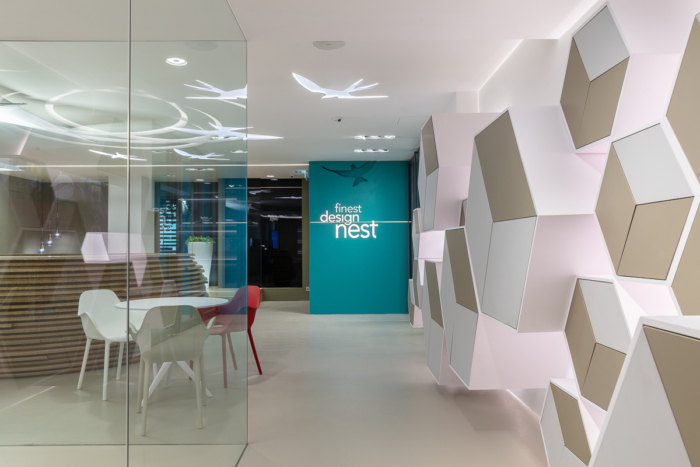 Finest Design Nest Coworking Offices – Hong Kong
Atelier E Limited with Finest Office Furniture Supplies have collaborated to design the Finest Design Nest coworking office located in Hong Kong.
Hong Kong is the most expensive place to rent office space on earth. Finding anything but a small cramped space to get creative and do good business is nearly impossible.

Until now…

Finest Design Nest is a breath of fresh air on the Hong Kong 'co-working space' scene. It is specifically designed to support the cities talented Design community; bringing a brilliant atmosphere for designers to excel at their work. When you walk in, the spaciousness is immediately uplifting.

Revitalization of Industrial Area – To meet Hong Kong's changing social and economic needs, HKSAR has encouraged revitalization to optimize the use of industrial buildings. In response, we transformed a warehouse in the busy industrial area – Lai Chi Kok, into 8200 square feet of inspired design, delivering a spacious modern work space that feels contemporary and positive. Everything revolves around a creative and intelligent use of space.

Share Space Share Minds – A core value of Finest Design Nest is the power of collaboration and sharing. This sense of collaboration is reflected in our name – Design Nest; architecture – 82% of the total area is set aside as Community Area for client meetings, networking, events and talks; and interior design – our 'flock of birds in transition' motif flowing through the space.

Affordable Choices for Members – To combat the soaring rent for a workspace in Hong Kong and to provide affordable choices, Finest Design Nest is divided into three zones – Private Rooms, the Hot Desk Area and the Common Area. The Private Rooms are bright and ultra-modern, all with ergonomically designed furniture, built-in storage space and a natural lighting scheme. The Hot Desk Area and Common Area are perfect for individual and young design talents.

Make Work Life a Pleasure – We aim to "make work life a pleasure", get rid of the hectic and stressful Hong Kong working style. Well thought out colour schemes from vibrant to pastel, using European lighting schemes, natural light, bird and nature motifs – all work together to create the right vibe for the task at hand: working solo, quiet collaboration, energetic teamwork, business events, or time out either in the workout room, lounge, or community areas. Step out of the busy city and into the peace and quiet of the Finest Design Nest, an oasis in the Hong Kong jungle.

Finest Design Nest – a spacious and inspirational co-working space. We welcome creative people from all design disciplines and walks of life!
Designer: Atelier E Limited
Photography: Eddie Cheung