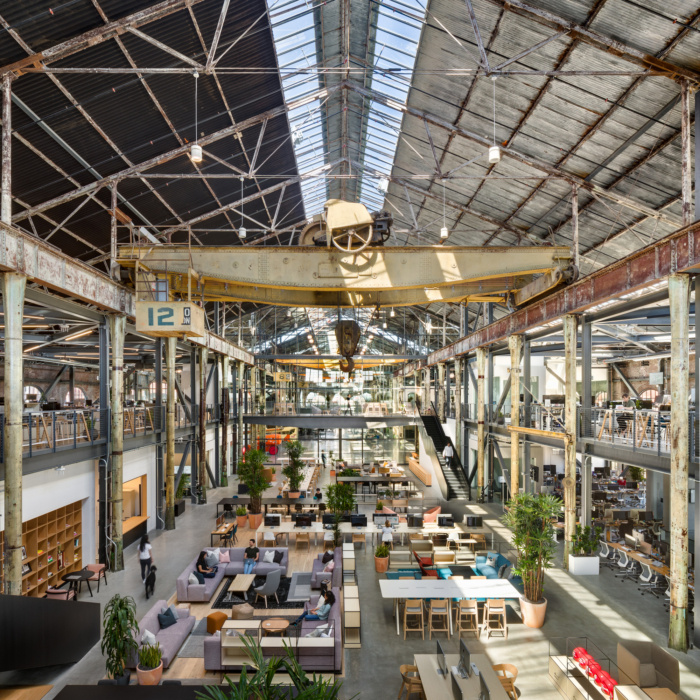 Gusto Headquarters – San Francisco
Once a former steel shop on Pier 70 is now Gusto's 50,000 square foot home complete with a central "living room" where employees can choose their work style, as the company continues to change the face of payroll processing technology.
Gensler completed the interior design of the headquarters for the human resources platform, Gusto, located in San Francisco, California.
Gusto's new home at Pier 70 tells a story about history, community, and relationships. The company, which was started in the CEO's house, approached Gensler to design their new San Francisco Headquarters with direction to maintain a residential feel for their staff. Designing within a historic building retrofitted by Wong Logan Architects, Gensler created a giant living room for employees and guests with design elements such as the company shoe cubby, a living plant wall, and an employee-painted mural depicting their customers. With employee buy-in essential to the move process, the use of VR was a critical tool that allowed employees to virtually experience their new space. Honoring Gusto's culture while transforming a cavernous open space restored a part of San Francisco history while supporting the evolution of one its newest businesses.
Designer: Gensler
Design Team: Randy Howder, Marcus Hopper, Ellen Fuson, Ian Young, Kelly Dubisar, Amanda Tharp, Marissa Everling
Contractor: Principal Builders
Photography: Rafael Gamo