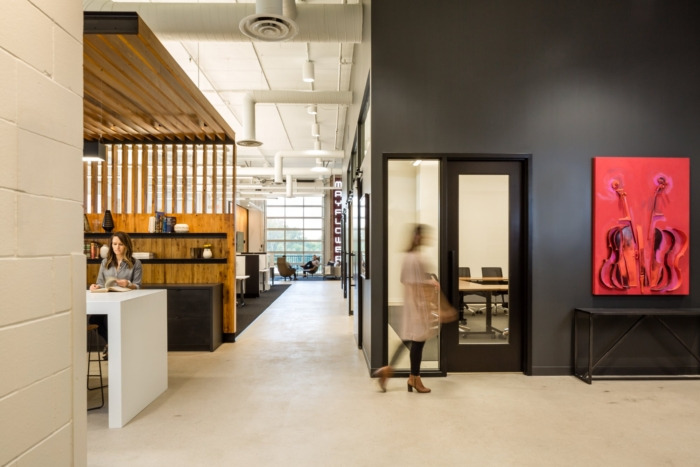 Paster Properties Offices – St. Louis Park
Studio BV was engaged by real estate developer, Paster Properties, to design their offices located in St. Louis Park, Minnesota.
Paster Properties is a family business in its third generation of leadership. The opportunity to move from the original home of the business in St Paul to a warehouse conversion in St. Louis Park was the chance to shift the culture of the organization.

The design is centred on a large bar space where the team can eat lunch and they can host community leaders and partners in their office for happy hours and breakfast meetings. They wanted a place that felt comfortable and set people at ease. The new bar area does this by creating intimacy at the meeting area and warmth through the use of a large wood screen and canopy. The screen separates the work areas from the meeting and client spaces and also serves as a organizing element in the space.

The same douglas fir wood wall is the backdrop to the open office fireplace lounge next to the garage door. The lounge creates a warm and comfortable space to relax, collaborate and entertain. The large garage door connects the interior to the exterior and provides that connection to building and industry that feels authentic to the work of the Paster team.

The history of the company is displayed in artwork and in the restored neon monument signs that were on the original Paster Properties Building. They provide color and life and animate the social spaces.
Designer: Studio BV
Photography: Jessica Stoe Photography