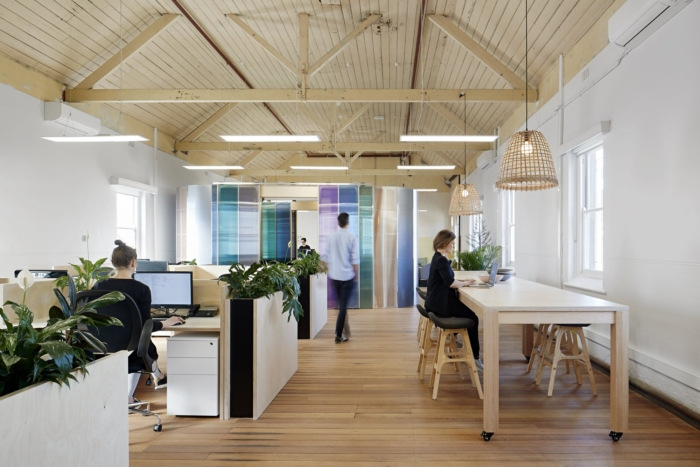 Polyglot Offices – Abbotsford
mcmahon and nerlich has created a delightful sense of space for non-profit theater company, Polyglot, located in Abbotsford, Australia.
Polyglot is not corporate, it is not slick. It is not a polished new-materials-on-wall-ceiling-floor office fitout. Neither is it a normal warehouse conversion; industrial heritage. Instead of being a true palimpsest, a humble insertion into a space that is careful and zoning and layout of a design parti enhances.

Polyglot, a not-for-profit children's theater company; with "children at the heart of our art". They approached a suit-funding model. The Sacred Heart building at Abbotsford Convent We are looking forward to seeing you at the convent, with a peeling paint and lost tiles. An extraordinary space, light flooding in, with the curiosity of a beautiful pale yellow, teal and lavender screen in one corner and in the other corner pale yellow tiles.

Polyglot is a company for children; still we wanted to design a space with a sense of playfulness, wonder and joy. We wanted a design that was so socially sustainable, with local or Australian-designed products sourced wherever possible, to align client values. And when we say tight budget, we mean extremely tight! The design solution is centered around; The Polypod. A bold curved polycarbonate boardroom designed to draw the eye across the space in an optical illusion that transforms the entire tenancy, giving maximum impact.

At a more nuanced level there is actually a part of 5 elements; 1.The Heritage Screen – Original feature! Lightly sanded, original pastel faded paint and heritage protected. Demarcates kitchen area, with lightly fixed joinery and heritage basil still visible underneath benchtops, original terrazzo below. 2. Reading Nook; Australian-made Warwick fabric upholstery and shaw contract carpet using the unique adhesive system meeting the strict requirements of the heritage permit. 3. Co-Lab tables – Mobile collaboration tables fostering creative communication, the space defined by the bamboo cloches from Koskela, itself a socially-sustainable company. 4th Polypod – The boardroom pod clad in striking verticals of curved colored polycarbonate 5. The Greenhouse – The custom desks house a planter that defines the edge of the working zone, providing perceived privacy with the well-acknowledged benefits and detoxification that indoor plants provide.

The Mr Kilty planter pots – a budget-friendly design classic from an Australian designer – use planting to define entry areas and mark circulation routes. Acoustic zoning allows for a graduation of noise and activity. The entire fit-out needed to "touch the floor" (and walls) lightly, needing approval from the building surveyor / Heritage Victoria. No recessed or flush-finish details were permitted, fixing for stability and ease of removal without leaving a mark non-negotiable.

Sinjen, who approaches the relationship in the spirit of partnership. With cooperation, determination and finessing, the key functional elements including ALL of the desks, co-lab tables and boardroom tables were custom made to a tight budget by their joiners and enhance the space, the pale smooth plywood furniture with feature black verticals a foil to the messiness of the heritage fabric. The Advanta board chairs were sourced from one of the few locally-designed and made office chair suppliers in Australia to meet the tight budget at a discounted inventory, and the Melbourne-based on-line startup. The desk chairs were recycled from the old office.The sustainability of the fit-out is evident, with no expensive construction waste or excess of materials. The palimpsest approach is inherently sustainable. (* excluding tenancy floor, walls and base services).
Designer: mcmahon and nerlich
Contractor: Sinjen
Photography: Shannon McGrath