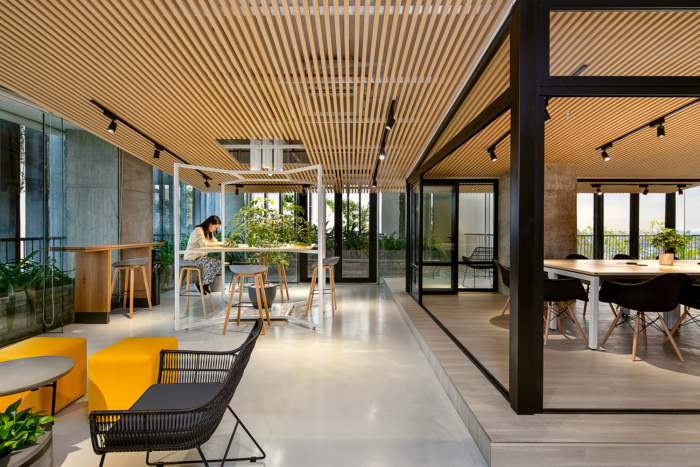 Bespokify Offices – Da Nang
Dandelion Design Construction Company Limited created the office design for fashion technology company, Bespokify, located in Da Nang, Vietnam.
Dandelion Design has created a comfortable space for Bespokify fashion-tech company located in Danang, Vietnam, which completed on time within budget and got high satisfaction from client.

The purpose of concept is to build an extraordinary cozy workplace with the minimal style that fits brand image and somehow bring the resort vibes into space.

The office is divided into 5 main units, in which boardroom is prominent as a big town hall at the center fit-outed with glass sliding doors and able to be completely open to the other areas to create a spacious and cohesive event space when needed. Thus, kind of movable table is the ultimate option. The well-designed pantry features a flexible door to keep the overall smell under control. Besides, utilizing room corners to be informal seatings for relaxing or discussion is a good idea to maximize space.

This is a special office integrated with factory so opting for industrial touches and subtle furnishes is typical for this style. The office was fit-outed with the full glass floor-to-ceiling doors with black frames give space the consistent look with the existing structure of building.

A comfortable atmosphere is enriched by tropical-inspired décor and arranging stylish chairs along the perimeter of the room. Open working space has natural light and fresh greenery. To achieve it, we flexibly installed sunlight lighting system (4000K) and put some plants in indoor planters, which gently blend into the natural vibes and also make us find it consistent with the green landscape available in building.
All of them contribute to let "unlike-being in the office" feeling resonate clearly and deeply reflect the brand image.
Designer: Dandelion Design Construction Company Limited
Photography: Ha Phong