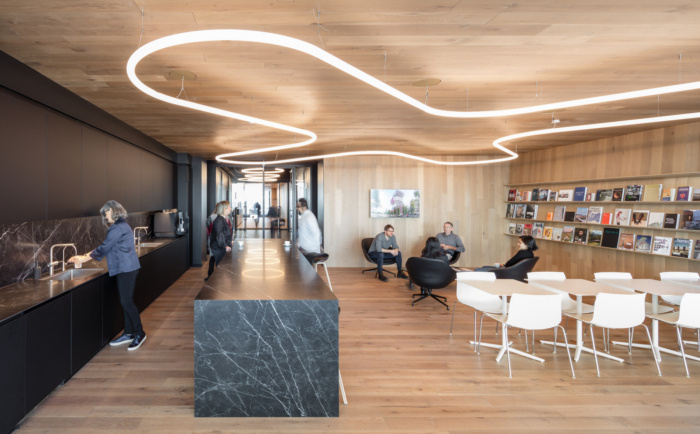 KPMB Architects Offices – Toronto
KPMB Architects have created a warm design for their new offices located in Toronto, Canada.
The team at KPMB Architects brought the warmth from their former timber loft studios to their sleek new offices on the 12th floor of the Globe and Mail Centre.

KPMB's office includes four large open work zones to encourage teamwork and brainstorming, centered around a white oak-lined central pavilion offering more meeting and gathering space, including a town hall and staff lounge featuring stools by Keilhauer, ottomans by eq3 and Klaus lounge chairs and timber stools. These join other spaces decked with exposed concrete, glass walls sustainable carpet tile and project pin-up surfaces made from recycled plastic – all materials seen frequently in the firm's renowned projects. The minimal yet warm combination of material palettes within the office space fuse a creative yet sophisticated environment.

To top it all off, the office sits on Toronto's major thoroughfare, King Street, and on the 12th floor of the Globe and Mail Centre, with panoramic views of Lake Ontario and the city's latest developments.
Designer: KPMB Architects
Design Team: Paulo Rocha, Kevin Bridgman, Brent Wagler, Goran Milosevic, Carolyn Lee, Lily Huang, Nina Djurkovic, David Poloway, Joanne Lee, Glenn MacMullin
Contractor: Govan Brown
Photography: Maris Mezulis