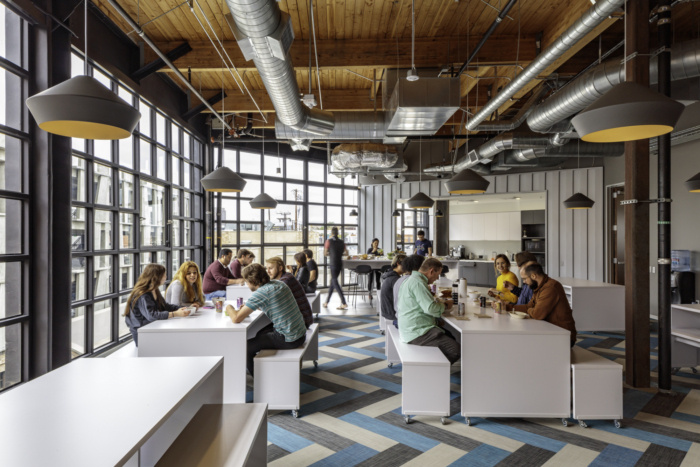 Soylent Offices – Los Angeles
To accommodate for Soylent's rapid growth, the food technology company has moved into a larger and highly collaborative new headquarters in the Arts District of downtown Los Angeles.
Ware Malcomb have completed the offices for meal replacement brand Soylent, located in Los Angeles, California.
Soylent, a pioneer in food technology, relocated from its previous LA location to accommodate the company's rapid growth. Located on the third floor of Building 2 in the At Mateo campus, Soylent's new corporate headquarters design is focused on collaboration. The space features open offices, breakout rooms, sample room, game area and a variety of lounge spaces with tiered seating for meetings. A circulation path runs around the entire office area, connecting the five "neighborhoods" or departments within the company. Private offices are located around the perimeter of the space, with 10-foot high glass walls allowing daylight to reach the interior. The black and white color palette reflects the foundation of the company's product branding, and allows for the brand to advance as the company grows. Operable windows and roll-up doors let in fresh air and provide access to the exterior areas, including a rooftop patio for employees to enjoy.

The new headquarters is also home to the Soylent Innovation Lab, a coworking space designed to attract like-minded, innovative technology companies to the Arts District.
Designer: Ware Malcomb
Contractor: Howard Building Corporation
Photography: Nico Marques