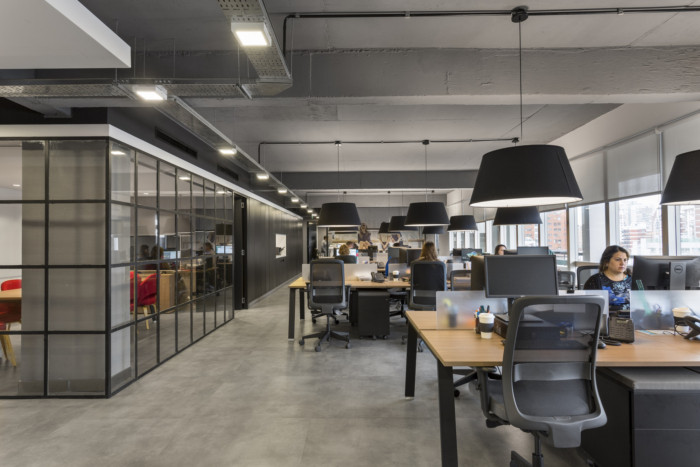 ID Argentina Offices – Buenos Aires
Contract Workplaces has completed the offices for ID Argentina, a Converse licensee, located in Bueno Aires, Argentina.
For the last 13 years, ID has been a licensee for Converse in Argentina, Paraguay and Uruguay (the renowned brand of sneakers). Their new Buenos Aires offices—spanning 1,100 m2—had to convey values like openness and transparency, in addition to reflecting the brand's easy-going spirit.

The premise put forth by the customer was designing a work environment that distanced itself from the traditional language of office spaces in terms of colours, textures and materials. Our proposal was inspired by an artisanal, "hand-made" aesthetic, which we intended to make reminiscent of a late-nineteenth century atmosphere (the time of the Industrial Revolution), where wood and metal predominate.

The biggest challenge was selecting materials that would suit the aforementioned requests while simultaneously expressing a palette of warm colours and textures. We resorted to loose-lay vinyl tile flooring—compatible with uses of raised flooring—, textile-screen light fixtures in working areas, workstations with melamine wood finishes, a divided-light glass façade structured by wrought-iron grills, and natural hardwood flooring in customer service areas.

In the areas dedicated to design and marketing, a "brainstorming wall" was incorporated where it's common to see samples of fabrics and colour palettes employed during the creative process. Notably, the corridor leading to the showrooms features large mirrors positioned against the walls and theatrical drapery, which prompts a wow factor amongst visitors.

The result? An office with a strong, accentuated personality, in grey and black shades and textures that contrast with the warmth of wood and cork, and with brick-red accents that embody the brand's character and spirit.
Designer: Contract Workplaces
Photography: Andrés Negroni