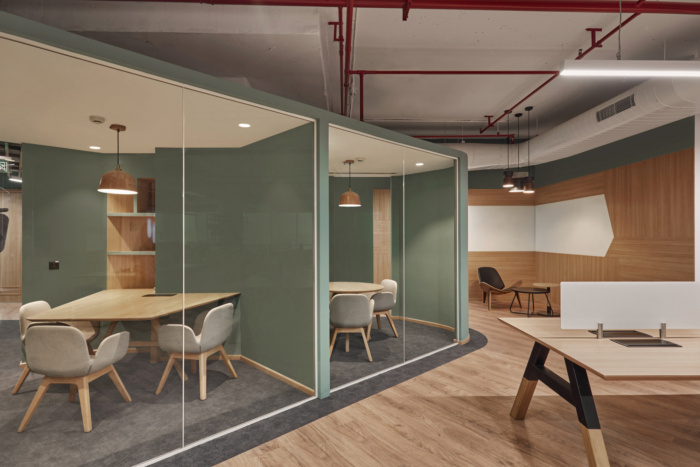 Nomura Research Institute Offices Phase 3 – Gurugram
Ultraconfidentiel Design recently completed phase 3 of the Nomura Research Institute offices located in Gurugram, India.
The Nomura office project was divided into two main areas within which the design was carried out in three phases. Phase 1 and 2 focused on the Formal working spaces and Meeting rooms dedicated to highly focused tasks.

Phase 3 focused on Diverse spaces like Informal meeting rooms, meeting pods and cafeteria, all serving as multi-functional spaces for collaboration enhancing the whole work experience and interaction between the employees. The overall aesthetics reflects Nomura's strong identity in the use of selected materials to create a feel-good atmosphere. The spatial concept of the project stems from the Japanese style of landscaping. Much like Japanese gardens, the central informal meeting rooms are placed on a diagonal axes and are composed to give a feeling of privacy while still maintaining the transparency with curved round portions. The layout planning focused on miniature landscapes as workspaces designed for aesthetics and optimum functionality.

The proportion of workstations and meeting zones is balanced out with use of breakout spaces, phone booths and greens. Employees have multiple spaces to brainstorm and work efficiently. The Central zone acts as the most active one, radiating out to formal and individual workspaces.

Throughout the entire space, the carefully chosen colour and material palette bring in the soothing effect while enhancing the working environment. An amalgamation of natural materials like wood and concrete finishes with soft hues of green surrounded by planters forms the common theme at Nomura and helps create an oasis of a chic and cosy workplace.
Design: Ultraconfidentiel Design
Photography: Vaibhav Chaudhary