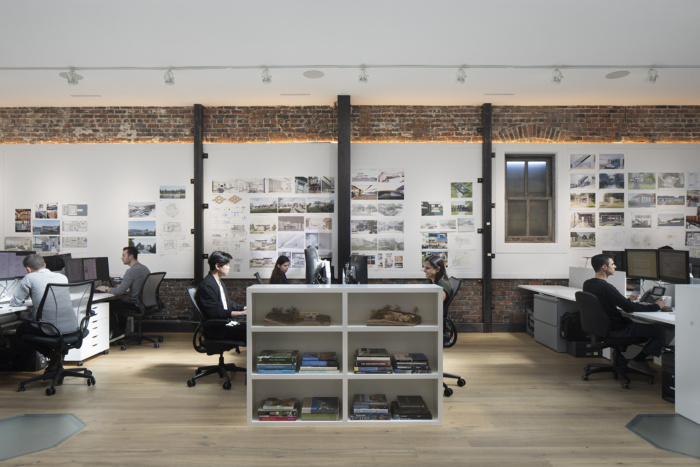 Feldman Architecture Offices – San Francisco
Feldman Architecture has converted a former firehouse into their new offices located in San Francisco, California.
Firehouse turned event space turned Feldman Architecture headquarters, the historic Pacific Firehouse's rustic bones and dramatic skylights held great potential for a welcoming, open floor workspace flooded with natural light as part of this mixed-use transformation. The design team looked to honor the original design of the building by accentuating its beautifully weathered and exposed brick walls and elegant steel beams.

Engine Company No 8, built in 1916, originally served as a three-level firehouse, the ground floor a double-doored, double-height engine room. The upper floors serving as the fireman's quarters and operation spaces, connected to the garage below by three brass fire poles. The building was designed by noted city architect John Reid, a consulting architect for San Francisco's City Hall and Civic Center.

Fast forward more than a century, the ground floor—former engine room—is now a 1,500-square-foot leasable space, providing the urban streetscape with much needed retail opportunities. Above, accessed via the original stairs (and newly inserted elevator) is the two-level, 3,800-square-foot design studio of Feldman Architecture.
Design: Feldman Architecture
Contractor: John Nittolo & Justin Farrelly
Photography: Paul Dyer