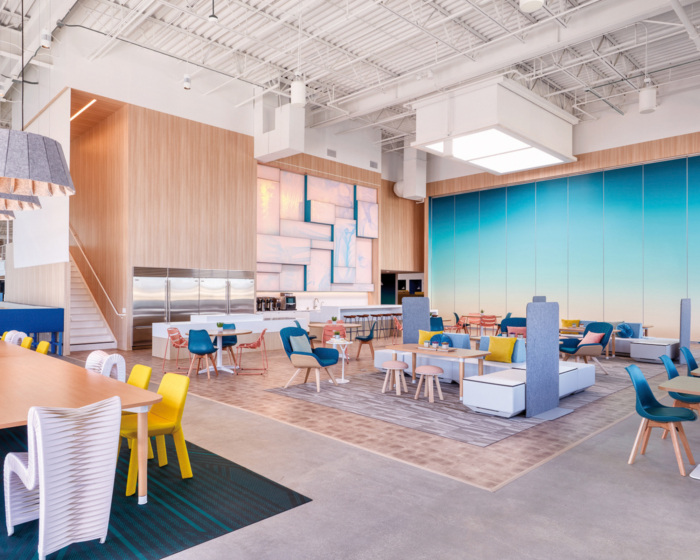 Radiology Partners Offices – El Segundo
HLW recently completed the office design for physician-led and physician-owned radiology practice, Radiology Partners, located in El Segundo, California.
The new HQ of Radiology Partners ("RP"), located in El Segundo, is the latest of three successful projects HLW has had the pleasure to design for this repeat client, thus far. The raw space of the newly constructed base building offered freshly poured concrete floors, upwards of 20 feet in height and impactful skylight "light boxes" that flood the space with a filtered glow of natural light. RP's goal for the space was to bring together into one impactful and lively space, the various local LA offices and departments that were previously siloed from one another. The goal was to craft a space relevant to their brand and field of work, that would both attract new talent and inspire existing employees to love their work environment. The design team described the design as "playfully polished" to respond to a the employees' wide demographic; lively and energetic for the younger talent , while respectful and sophisticated for the more experienced staff and physicians.

Aside from design impact, community and collaboration were high priorities. A variety of enclosed and open meeting spaces, focus rooms and zones, training facilities, and multi-functional event spaces, were just some of the space requirements of the space, along with varying private office sizes and a multitude of open office workstations. A new mezzanine was thoughtfully designed around the light boxes to provide room for future growth.

The material palette focuses on color, light, negative space, transparency, objects inspired by bones or abstracted resemblances of such, and of course, X-Rays. In the more muted color palette of the board room, white acoustic ridge-like baffles hang high above the double-height space to form a blanket above the board room table which mimics the form of an abstracted ribcage, as simple white pendant lights hang down the center in an undulating fashion at varying heights. In the large café, a back-lit dichroic X-Ray feature wall spans 18 feet high, composed of light boxes in varying depths and sizes with custom X-Ray graphics whose muted colors change and saturate as one walks from one side of the room to the other. Adjacent to the café is an 18ft high sliding acoustic wall system covered in a vibrant gradient ombre graphic , which slide fully open to reveal a larger dividable training room. In the center of the plan, a spacious collaborative zone houses a stadium-style feature stair framed with bold black and white x-ray graphics to create a tunnel of light and impact that lead up to the mezzanine while providing playful seating for larger presentations and gatherings. Throughout the open office, white walls balance the playful multi-colored privacy panels at individual workstations, and allow for the "pop" of accented colors within the focus and collaboration niches that are scattered throughout the open office.
Design: HLW
Design Team: David Swartz, David Pekema, Stephanie Baca, Michelle Marotta, Justin Jickess, Jianxin Li, Elizabeth Fox
Contractor: Howard Building Corporation
Photography: Kim Rodgers