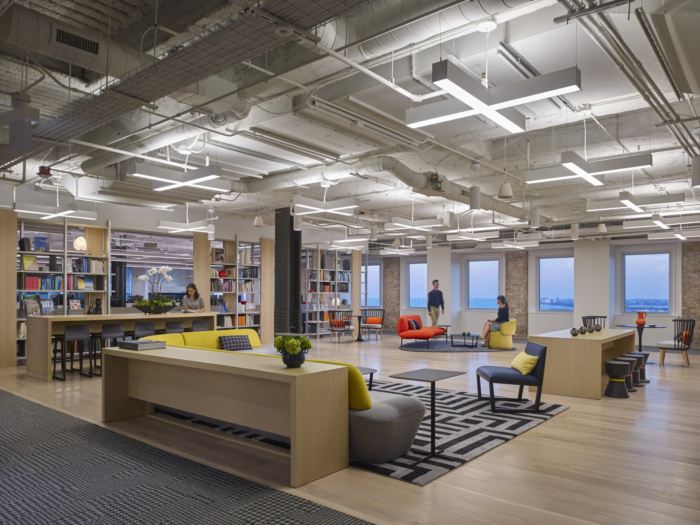 Sheehan Nagle Hartray Architects Offices – Chicago
Sheehan Nagle Hartray Architects has realized the design for their expansive offices located in Chicago, Illinois.
Many design decisions of Sheehan Nagle Hartray Architects' new office space in One Prudential Plaza were made with the employees' wellbeing in mind. In a time when most architecture firms, and companies in general, are looking to reduce their footprints, SNHA fought to maintain a comfortable workstation size per employee.

With over 120 workstations, the 21,145-square-foot office's open layout maximizes breathtaking views of iconic Chicago landmarks, including Millennium Park and Lake Michigan, and the clear glass design of private offices and conference rooms ensures direct access to natural light at every point of the floorplan.

An important design objective was to foster a sense of inclusiveness, often harder to achieve in a larger footprint. The Commons area serves as the heart of the firm available for 'all-staff' meetings, continuing education 'lunch and learn' events, welcoming visitors and casual office events and is fully equipped with Apple TV and Barco Clickshare. The gathering space was designed for people to congregate in to learn, play, socialize, and gaze out at the incredible views.

With a blended aesthetic of "performance driven and poetically crafted" in mind, SNHA designed the space to highlight the newly merged firm's joint identity and diverse portfolio of work. The space has a semi-raw interior of exposed ceilings and brick walls original to the building with a carefully curated collection of furnishings to further emphasize the unique blend of aesthetics. Minimal, industrial design is represented in custom shelving which serve as dividers between the Commons area and workstations, while the incorporation of handcrafted lounge chairs and classic houndstooth-patterned carpet seen throughout provide a timeless element to the design.

Stylistically, in many ways the office represents the people within. The firm and its primarily young staff were at the forefront of the design process, influencing the interior's light and bright color palette with the firm's brand color (orange) sprinkled throughout.
Design: Sheehan Nagle Hartray Architects
Photography: Mariusz Mizera