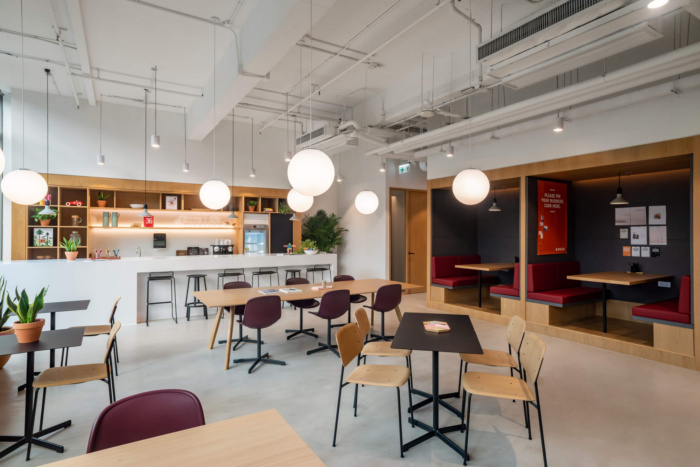 SPACES Wong Chuk Hang Coworking Offices – Hong Kong
Interspace Limited has been tasked with the design of the SPACES Wong Chuk Hang coworking offices located in Hong Kong.
Interspace created this incredible new flexible workplace for SPACES in the vibrant creative hub of Wong Chuk Hang, Hong Kong. This center spans more than 30,000 square feet over four floors, and offers unobstructed sea views from all three office floors. Standing out from other SPACES locations in Hong Kong, the business lounge features exceptionally high ceilings and an exclusive lift from the Ground Floor for easy access during the morning and lunchtime rush.

Members and visitors are treated to a large public area, furnished with a wide selection of pieces from HAY and many unique, cement lighting fixtures from BENTU. Warmer tones were used compared to other SPACES centers in Hong Kong, playing off colorful street-level murals and nearby temples, while cementitious self-levelled flooring and open ceilings are a reminder of the area's industrial heritage.

The barbell-like floor plan of the building allowed the designers to include numerous cozy, semi-private areas within the large open plan lounge, inviting exploration and offering members plenty of focus zones while still encouraging social interaction at the common facilities. Careful attention was paid to the penetration of natural light into the deep floor plate, with open, free-standing display shelving, and elevated booth seating along the core area affords clear sight lines across the cafe to the verdant greenery outside the 2nd floor lounge, ensuring maximum enjoyment of the uniquely natural vista.
Design: Interspace Limited
Photography: Michael Chung