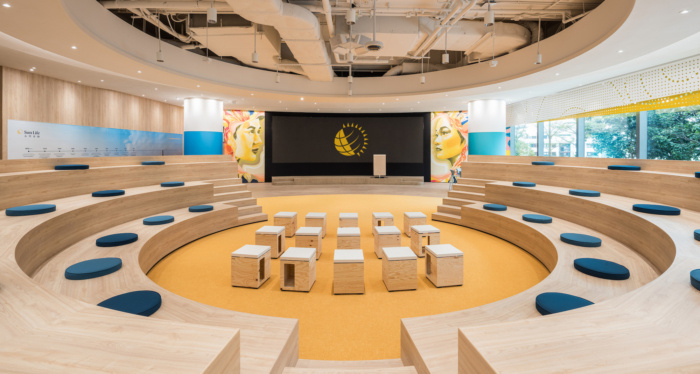 SunLife Offices – Hong Kong
Designers looked to the insurance giant's brand identity and corporate colors of yellow and blue to create the bold interiors concept for SunLife's Hong Kong office.
Spatial Concept Limited recently accomplished the design of the SunLife offices, an insurance, wealth management, and pension service company, located in Hong Kong.
SunLife's office encompassed distinctive front and back of house areas boasting harbour views to the south. Spatial Concept looked to the insurance giant's brand identity for a strong design concept. Corporate colours of yellow and blue were utilised in tactile materials such as carpet, seating upholstery and accent walls. Circles were adopted as a design motif in pendant lamps and suspended metallic panels perforated with patterned discs that cast intriguing shadows.

Client facing areas include an amphitheatre-style town hall with stackable wooden blocks that can be adopted as ad hoc seating or desks. Adjacent is an expansive cafeteria separated by a folding screen that allows for full integration as required. A dedicated training hub offers adaptable rooms to house up to 500 people and a breakout area with flexible seating to facilitate casual interactions. The back office features workstations along the glazing and an abundance of glass walled rooms, allowing natural light to reach deep into the core.
Design: Spatial Concept Limited
Design Team: Gary Lai, Vic Lau, Somo So, August Lam
Photography: Scott Brooks