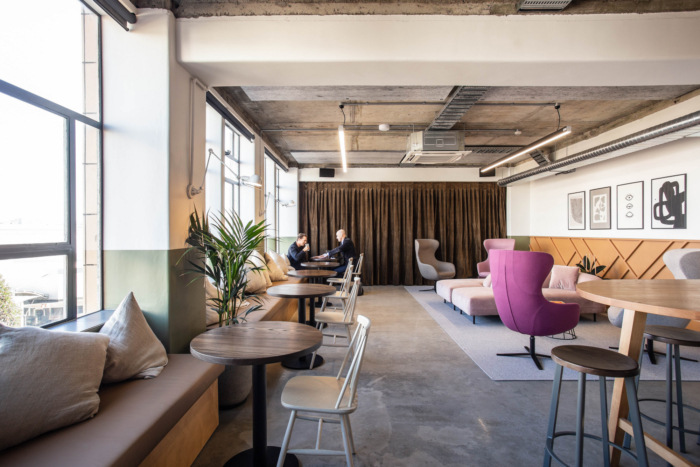 Panama Square Coworking Offices – Hamilton
A warm, flexible and hospitality-focused workspace, Panama Square coworking aims to inspire Hamilton toward a design-centered approach to developing the city center.
Designwell was tasked to bring energy and vibrancy back in the realization of the Panama Square coworking offices located in Hamilton, New Zealand.
Panama Square is a multi-use, coworking space located in the heart of Hamilton's CBD – Garden Place. The four story building, formerly the old MLC Insurance building built circa 1959 has been home to banking and insurance institutions but like many other CBD buildings has sat vacant for over 6 years before this project. Together with Stark Property we worked to redesign the interior into an award winning space.

The client had a strong desire to bring energy and vibrancy back into the Hamilton CBD and the brief was for Panama Square to be a striking catalyst to further inspire the city toward a design-centered approach to developing the city center. The three working floors of the 'Square' were broken up into offices, hot desks, meeting spaces, lounges, hospitality and function spaces. Each space had to reflect the Panama brand strategy of creating warm, flexible and domestic inspired work environments themed to the context of its location.

Inspiration for the interior came from the building itself. By stripping out the suspended ceilings and partitions we exposed beautiful concrete structures and carefully formed plaster work throughout. Bathrooms still displayed their 1950's design glory with original pink wall tiles, terrazzo dividers and cream floor mosaics. As a design team we drew from the round structures and warm, muted tones, layering these back into the spaces through the use of textured plaster and paint effects, woolen and velvet fabrics, natural stone mosaics and colourful, geometric wall graphics. The result is a flexible environment that blurs the lines of residential, hospitality and workplace interior and a space that celebrates the building's design features.

Bespoke joinery and furniture were designed and fabricated for each space to give the interiors a full and integrated feel. Large format sheet metal shelving feature in the meeting and kitchen spaces while the additions of art-deco inspired hand-rails and bathroom mirrors further accentuate the buildings heritage. The rawness of the ceiling slab was softened with acoustic paneling and this was offset by the rich timbers and upholstery at eye-level. Hospitality inspired break-out spaces were used strategically to create a sense of permission for residents to share space and grow together as a co-working community.
Design: Designwell
Photography: courtesy of Designwell