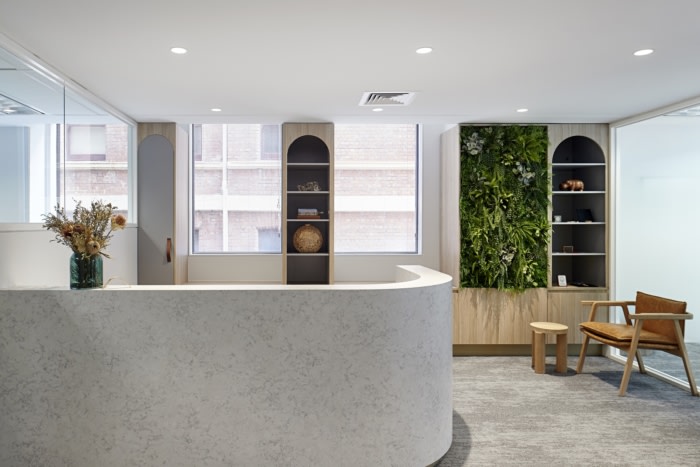 Ian Potter Foundation Offices – Melbourne
KHID recently accomplished the office design for the Ian Potter Foundation, a philanthropic foundation supporting excellence and innovation located in Melbourne, Australia.
Located in a Melbourne CBD Heritage building, the design for the Ian Potter Foundation marries tradition and vision, to create an authentically refined modern workplace that facilitates the long-standing history of encouraging excellence and supporting creative, innovative, and charitable work.

Central to the design brief was to create a light filled, boutique and spacious workplace. Restricted by low ceilings, and a small and disjointed floor plate, the design tackled these challenges by focusing on three main spatial and experiential elements: reception and presentation, workspace and focused work, community and collaboration.

The client required a refined aesthetic to front of house that evoked a welcoming yet polished experience. Warm natural timber, in addition to metal and leather finishes, elevate the reception, meeting rooms and boardroom. These spaces maximise the access to natural light in the workspace in addition to the application minimal and muted colours found in these spaces create a calm, focused space.

The introduction of a breakout space was a priority, to provide relief and a space for informal collaboration. Colour injection offset by light furniture and timber flooring, a whiteboard arch and a variety of seating options compose this multifaceted space that completes this workplace. More than just a place to eat food, but to encourage stepping away from the desk to meet and engage in collaboration.

The design response for the Ian Potter Foundation went further than answering the requirements of functionality. Central objectives to successful design excellence included design that created a sense of place that was reflective of the history and vision at the heart of the foundation, in addition to fostering community and collaboration. The resulting vibrant and modern spaces for work facilitates the continuation of the Foundationˇs legacy in enacting positive social change and investment in Australian creativity and innovation, in addition to capturing these values internally. Design excellence was achieved by creating a tangible connection to the identity of the Foundation and mirroring these ideals in the working environment and inspiring pride among the Foundationˇs staff.
Design: KHID
Photography: Shannon McGrath