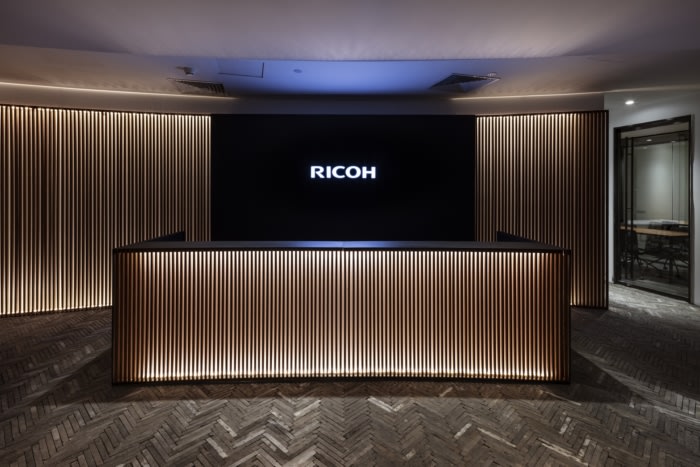 RICOH Offices – Shanghai
Uchida Shanghai was trusted with the design of the RICOH offices, the digital business service and printing solutions company's location in Shanghai, China.
RICOH's headquarters in China, located in People's Square in the center of Shanghai, consists of three floors. The relationship between RICOH and China has existed for a long time, and the client's request was not only to satisfy the functions, but also to realize the characteristics and quality of Shanghai in the space.

First of all, the original building is a very unique structure with an elliptical plane in the center core, and it is one of the earliest high-rise buildings in Shanghai, built in 1998. We wanted to propose a concept that would take advantage of the building's history and outstanding views.

A radial desk layout that incorporates the surrounding environment. Visualize the history of the building by using the original structure as a finishing touch.

For the entrance, laminated bamboo, iron sheets, and old tiles obtained in Shanghai were used to introduce materials into the modern design and express the history of the building.

All the existing ceiling panels were removed to reveal the original structure, and the low ceiling height was eliminated to create an open and noisy design.

At night, the surrounding illuminated high-rise buildings give the office a sense of floating that only a mega city can provide.
Design: Uchida Shanghai
Photography: Kenta Hasegawa