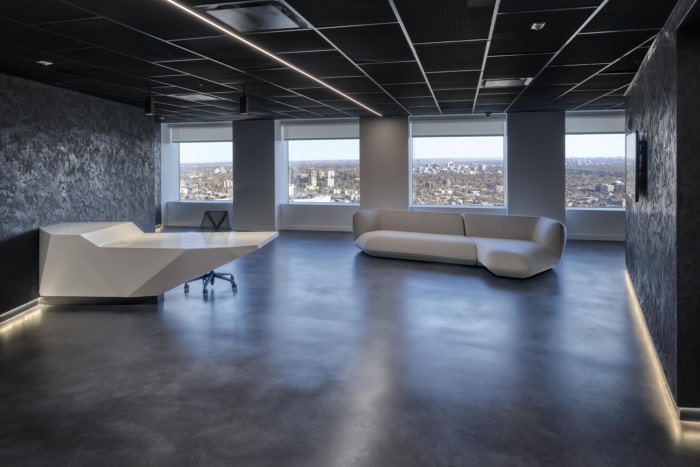 Gymshark Offices – Denver
Oktra continued its long-time partnership with Gymshark in the realization of the fitness brand's new offices located in Denver, Colorado.
Gymshark is one of the most exciting success stories in recent history, having recently been valued as a £1B company, making it only the second British company to achieve 'unicorn' status as well as securing investment from General Atlantic. A significant percentage of its turnover comes from the US market, prompting the company to establish a route into the US to support its American consumers.

Gymshark's Denver office, or GSDNV, will localise the company's offering, enabling it to grow its business over the next five years. Oktra, the design and build company behind each of Gymshark's locations in the UK and Hong Kong, has designed GSDNV and led the project from its office in the UK.

GSDNV includes a refuelling area for staff complete with local catering, meditation rooms, rehabilitation or physical training facilities, dressing rooms and a barber. The workspace also hosts a range of spaces tailored to support the way Gymshark's teams will be working, from café-style informal meeting lounges to open agile workspace, meeting rooms and an ideation room with entirely writable walls for real-time innovation and collaboration.

Gymshark is the latest in a wave of industry leaders to relocate to Denver, Colorado, the fifth-fastest growing city in the US. Centrally located, the American office will allow Gymshark's teams to communicate across time zones, supporting customers on the West and East coasts of America while remaining in touch with UK head offices. GSDNV houses the majority of Gymshark's US functions including creative and branding teams, athlete management, legal teams and commercial and customer services.

Denver's renowned outdoor sporting culture will enable Gymshark staff to live and breathe what they do. The new office is located in Republic Plaza – the tallest building in Colorado, boasting panoramic views of the Mile-High City and the Rocky Mountains.

Featuring urban materials like sealed concrete flooring, suspended ceiling rafts and mesh, the workspace is indicative of Gymshark's UK and Hong Kong locations: in fact, the boardroom is a direct replica of that in the UK headquarters, incorporating part of the company's home within its newest location.

That being said, GSDNV has an identity all its own – one that is very much a fusion of the brand and the surrounding area.

Users progress from a dramatically low-lit reception and meet and great area, to increasingly brighter spaces as they move deeper into the office and simultaneously closer to the building's perimeter, until being met with pristine white workspaces and striking views of downtown lined with the nearby mountain range.

One of the most impactful features of GSDNV is not a facility at all, but a lighting system. Smartengine intelligent lighting by WTech uses sensors to monitor surrounding levels of light and mimic natural daylight, keeping circadian rhythms intact even in the built environment. The same sensors pick up information on space use as well, allowing Gymshark to monitor office occupancy and efficiency while cutting energy use by 90%. Oktra first installed the lighting system in Gymshark's UK headquarters.
Design: Oktra
Photography: courtesy of Oktra