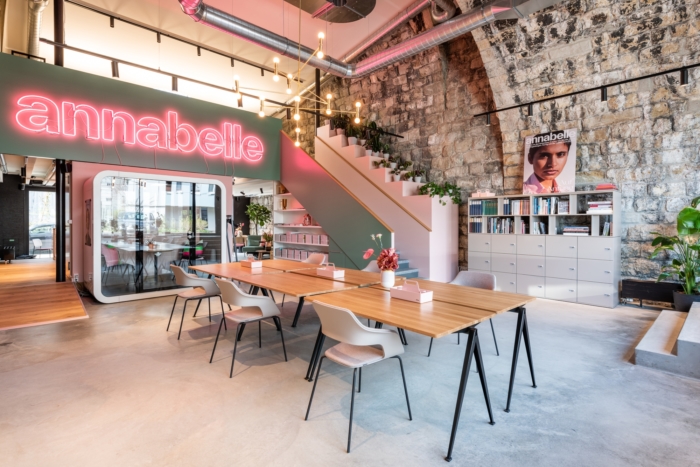 Annabelle Magazine Offices – Zurich
A fresh design within a prestigious Zurich building, the offices of Annabelle Magazine offer the publication a stylish and functional space to develop relevant content for their female readership.
berry have completed the engaging design for the creative offices of Annabelle, the first Swiss women's magazine, located in Zurich, Switzerland.
In the vaulted building of the viaduct, berry designed and implemented an office landscape which offers ideal conditions for focused work, creative exchange and hip events. The fresh design is in harmonious contrast to the prestigious building and underlines the trendy image of Switzerland's first women's magazine.

The women's magazine annabelle informs its readership not only about fashion, beauty and interior, but also about socio-political issues. The new office location in the Viadukt in Zurich meets the requirements of "new work": The new location not only serves to develop journalistic content, but also offers space for informal exchange and events for the readership. berry accompanied annabelle from the initial development of ideas through to building acceptance and furnishing. The result is a stylish and functional office concept that creates modern working conditions for the 26 employees and underlines the image of the magazine.

Trendy shops, restaurants and start-ups line up over 500 meters and fill the viaduct arches in Zurich with life. The annabelle team opened their new office and event space March 2021. The newly designed location meets the needs for flexible, but also quiet work and can easily be converted into a trendy event location. Custom-made carpentry solutions combined with often stackable products enable multifunctional and unique room solutions. Thanks to the smart room layout, the office space under the arch of the viaduct can be used ideally for different work types without restricting the feeling of spaciousness within the space. The lifestyle embodied by the magazine and the annabelle brand is reflected in the staging of the new office world. Dusky pink and soft green are the main components of the color concept of the project. The colors (Different shades of pink, subtle gray and lush green) embody the feminine touch of the magazine and create a contrast to the rather industrial location with high ceilings and old stone walls.