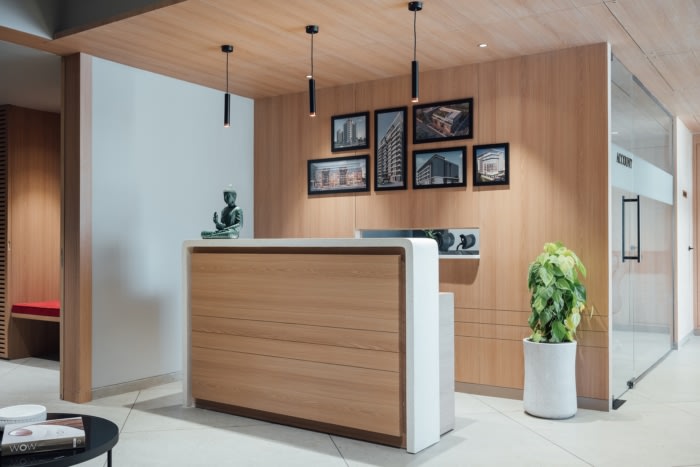 The Dawn Office – Surat
ADDA Architects & Urban Designers created an open environment infused with natural light for the Dawn Office located in Surat, India.
Former program's configuration was composed of private offices and a few open areas. This fragmentation between the public and private spheres did not allow its users to fully take advantage of the space's operative capacities. Hence, the new intention was to generate an open environment with as much natural lighting as possible, as well as open areas that allow for different ways of working: be it a classic individual work space –from your own desk–, or a collaborative work space that can remain open or closed.

Minimalism reigns the design brief, ensuring that the ideology of 'less is more' is implemented intrinsically. The transition spaces anchor high lintel fenestrations which look into the expansive terrace garden that is an extension of the office, lending itself to outdoor experiences and recreational activities.

The spatial layout of the office capitalizes on the strategic positioning of cabins and workstations that soak in the eastern-facing views of the lush greenery and dappled sunlight that dots the indoors from morning to dusk. The office opens into a quaint reception space that is doused in contemporary light wood tones which envelop the walls and ceiling ubiquitously. A curved-edge terrazzo and laminate-clad focal table anchor the space, offset by a sleek charcoal-hued sofa in the lounge and an intricate pooja niche that hosts sacred Shlokas on a rose gold metal backlit panel. Indoor greens have been sprinkled across the floor, which breathe life into the nooks of the office.

The primary cabin occupies a larger fraction of the floorplan with its position along the end of the axis corridor, from where it enjoys views of the outdoors along two peripheral walls. The customized furniture in the cabins allows the pieces to be tied-in with the design grammar of the office whilst responding to the needs of each end-user. The colossal desk was created using ivory terrazzo at site and renders the cabin with a geometric identity with its sinuous edges.

Concealed built-in storage in wooden tones and abstract art prints earmark the cabin, thus resonating with the design palette of the office. A snug discussion corner by the window hosts brilliant scarlet red sofas that create an engaging milieu while interacting with the framed views of greenery.
Design: ADDA Architects & Urban Designers
Photography: Ishita Sitwala