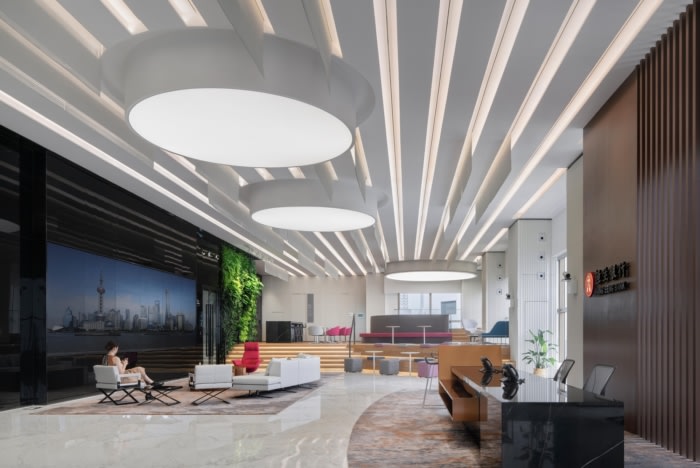 Hang Seng Bank Offices – Shanghai
iDA Workplace went a different direction when tasked with designing the Hang Seng Bank offices located in Shanghai, China.
Hang Seng Bank was established 87 years ago and is still working to change with the times; to break through and remain a leader in banking. They chose iDA to help create a workspace that represents their desire to remain on the cutting edge of their industry.

A couple of years ago, instant foods noticed that their sales began to decline rapidly due to the advent of delivery services. In the same way, Alipay and WeChat have created challenges for the traditional banking industry. Hang Seng is looking for ways to innovate within their industry in order to face the rising challenges.

Hang Seng chose to avoid decorating their office in their corporate green and instead, opted for a chic combination of gray and purple throughout their workspace. This color points to their modern sensibilities and fits well with the understated confidence of their corporate brand.

The main reception area has a 4.5 meter-high ceiling. iDA highlighted this feature through a clever combination of horizontal and vertical lines. The overall atmosphere feels spacious and open for anyone visiting the office.

We've also incorporated a large screen into the wall of the reception are that is both unique and allows the reception area to become a multi-functional connecting space. The screen emphasizes Hang Seng's embrace of FinTech as a way of maintaining its competitive edge against traditional and disruptive financial services. This space reminds Hang Seng's clients that they are always looking to the future of the baking industry. In a shared working area, horizontal lines function like steps, leading your views skywards. This represents Hang Seng's desire to "step up."

Another feature of the space is its ability to transform based on the needs of the occupants. Looking at the concept of ABW we created a transformable conference room that can open up through the use of a moveable clapboard. The ability to open up this space creates the opportunity for social gatherings and large seminars which offer new and unique opportunities for employees.

Bringing natural sunlight into a large office has always been a challenge. iDA accepted this challenge and created shared working spaces and meeting areas near large windows so that employees have equal opportunities to experience the warmth of natural lighting.

The combination of open discussion areas and dedicated workstations allow Hang Seng Bank to strike a balance that is both dynamic and static. The resulting office space is full of vigor and helps Hang Seng move beyond the image of the traditional banking industry.

Age does not mean that one must remain unchanging or inflexible. Age also creates an opportunity for breakthrough and growth. Redesigning the look of a company with a long history helps them move towards the embrace of FinTech and multi-functional space for future wellness in the marketplace.
Design: iDA Workplace
Photography: Highlite Images