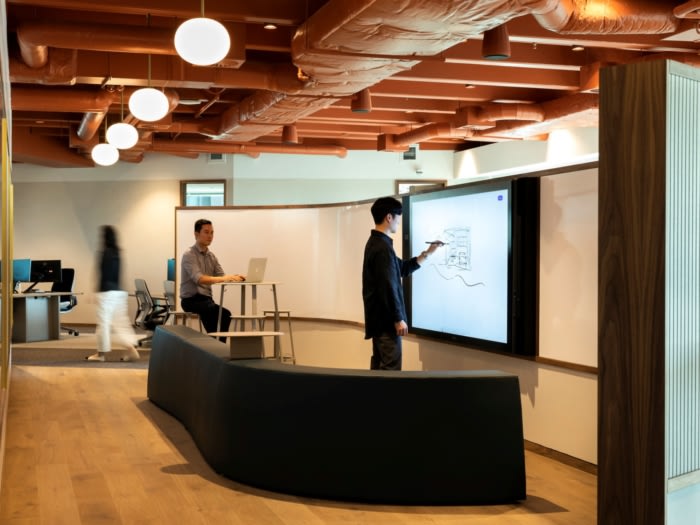 Unispace Offices – Auckland
Leading by example, the new Unispace Auckland studio is one of the first built examples of a post-COVID-19 workplace, powered by the firm's pioneering Propeller Framework and Agile ways of working.
Unispace designed their own post-COVID workplace located in Auckland, New Zealand.
Our team in New Zealand needed a more bespoke environment that would support agile working practices and enable more collaboration with our clients, colleagues and partners. So when Covid-19 hit, and we began to develop our Propeller Framework for the post-pandemic office, we saw the perfect opportunity to trial our approach in a country lauded internationally for its response to the pandemic.

The result is a workplace that is geared toward measuring and enhancing productivity, collaboration and innovation.

We support and encourage remote working for focus and wellness, while deeply acknowledging the value of bringing people together – the energy, the benefit to culture and the power for ideas generation. And we've drawn from the worlds of travel, leisure and hospitality to take the workplace experience to the next level, giving our people the perfect reason to travel in for the day and encouraging clients and partners to share our environment.

In our new environment every space works hard for the team. Each area of the studio is multi-functional, bookable, tech-enabled and acoustically-treated. No matter what your task is, there is a place for you and your team to get together, plug into technology and continue with your day.

Visitor and user experience, co-working, digitally-physically blended spaces and wellness were critical factors for us to embody in the workplace. The result is a 'fully-hosted experience from arrival' – digital welcome screens, an open co-working deck for employees and clients to use, a full open kitchen server, an abundance of open and closed meeting rooms and ample screens for connectivity. Post-COVID-19 design inclusions were custom-designed acoustic phone booths for increased 1-1 video conferencing, and more innovation spaces, including our tech-enabled Innovation Hub.

Technology seamlessly connects the physical and digital working experience throughout the studio. Every work point is enabled with plug-and-play tech, presence-sensors, and on-desk wireless phone charging. Sensors above every meeting room/space track real-time utilization. This holistic tech experience is critical for workplace productivity and culture, and is the smoothest pathway to workplace inclusion, given that most meetings now contain at least one remote team member.

Delivering workplace fit outs isn't easy during a pandemic, so we developed a new lean delivery process to reduce delivery time, minimize waste and improve value. Applying lean principles allowed us to build our new studio in just six weeks, despite work being carried out against the backdrop of the country's highest Covid-19 alert level. It was the perfect pilot, and has helped us refine our process for delivering all workplace projects in a more agile and responsive way, even where multiple subcontractors and suppliers are involved.

In New Zealand, we now have a COVID-19-secure, destination workplace where high-quality experiences happen, from coaching and collaboration to planning and socialization, with our team's time in the office built around these experiences.
Design: Unispace
Photography: David Straight