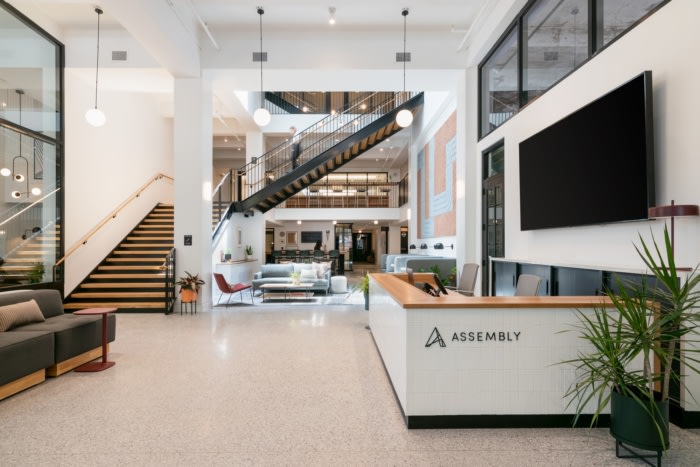 Assembly Multi-Tenant Office Building – Norfolk
Campfire & Co. and Work Program Architects honored the existing building in the design of Assembly, a multi-tenant office space located in Norfolk, Virginia.
Housed in the historic former Ames & Brownley (c. 1919) department store, Assembly is a multi-tenant office building that is purpose-built to host a curated community of like-minded professionals — leading creative and technology companies, aspiring startups, and talented freelancers all sharing energy, inspiration, and resources. Every aspect of the space is designed for connections and collisions, and to support the common needs of creators. With inspiring common spaces and shared access to world-class resources and amenities, each company becomes stronger — making the collective greater than the sum of its parts.

Some of Assembly's notable amenities include a rooftop deck and penthouse, atrium and living room, podcast recording booth, wellness/mother's room, game room, library, bike share & bike storage, as well as a large conference room, meeting room, event space, private office suites and impromptu work areas.

The overall design vision of Assembly centers around honoring the historic building in which it's located. The key features of the interior design are meant to feel at home in a historic space without replicating or mimicking the exact details of the building's early 1900s era. As occupants and guests enter the building and then move deeper inside and up towards the roof deck, they will notice a subtle but intentional gradient of classic design elements to more modern details.

In addition to the delicate balance of classic meets modern focus, Assembly's interior design is meant to feel more like a cozy and custom boutique hotel than a traditional office space. From lounge spaces to meeting rooms, the space is designed to connect a creative and innovative community of tenants, requiring an atmosphere that's welcoming, comforting, flexible, and inspiring.

Design highlights include custom terrazzo flooring and a custom color palette inspired in part by the textures, fabrics, and colors found in classic men's suiting. The design details focus on liveliness alongside hygge. Plants, pillows and carefully selected artwork add texture and pops of color to the space's neutral color palette making the overall atmosphere lively and saturated. Assembly's design also incorporates found artifacts and uncovered history such as the store's former fur vault which is now the inspiration for the large shared boardroom on the same floor.

Completion of the Ames & Brownley building marks Phase 1 of the greater Assembly campus. Phase 2 will encompass extension to the adjacent, former Sears & Roebuck.
Design: Campfire & Co. and Work Program Architects
Photography: Thibaud Guerin-Williams